Person-Centred Counselling
Learn the fundamentals of how counselling and psychotherapy work, and how to use counselling skills.
Study time
9 hours
Level
Level 2
Start date
7 December 2023
Preview
Person-Centred Counselling is a humanistic approach that emphasises the creation of a non-judgmental and empathetic therapeutic relationship, allowing clients to explore their feelings, experiences, and self-concept to facilitate personal growth and self-acceptance. In this introductory course, you will learn about the core concepts, theories and skills used in Person-Centred Counselling.
This course delves into the fundamental principles and techniques that define the practice of counselling. Rooted in the person-centred approach pioneered by Carl Rogers, you'll gain an in-depth understanding of how counselling empowers individuals to explore their thoughts, feelings, and experiences in a supportive and non-judgmental environment.
The core tenets include three crucial conditions for therapeutic change: empathy, where the counsellor truly understands the client's perspective; unconditional positive regard, showing complete acceptance and non-judgment; and congruence, which is the counsellor's authenticity and transparency. Rogers believed that these conditions create the necessary psychological climate for clients to explore their feelings, thoughts, and experiences and, in turn, achieve greater self-understanding, self-acceptance, and personal development.
This humanistic approach places emphasis on the client's unique subjective experience and personal autonomy, emphasising the importance of the therapeutic relationship in fostering positive change. By studying concepts such as empathy, active listening, and unconditional positive regard, you'll learn about the process of creating a therapeutic space that allows clients to find solutions to their problems, gain self-awareness, and move forward on their personal growth journey.
This course is an invaluable gateway to comprehending the core principles of counselling and its practical application. It is a foundational resource for psychotherapists and mental health professionals interested in exploring in adding counselling skills to their work life, CV, or personal relationships.
We will cover:
Gain a deep understanding of the foundations and principles of person-centred counselling.
Develop a thorough grasp of key counselling terminology and concepts.
Explore the history and development of the person-centred approach, including its therapeutic alliance.
Differentiate person-centred counselling from other therapeutic modalities, such as psychodynamic and cognitive-behavioural approaches.
Identify the core conditions crucial for effective counselling, including empathy, unconditional positive regard, and congruence.
Examine essential counselling skills, such as active listening, reflecting, summarising, and validation.
Understand the application of person-centred counselling in various scenarios, including depression, anxiety, trauma, and more.
Explore the role of culture and diversity in counselling, fostering cultural competencies and inclusivity.
Discover what it's like to work as a counsellor, including aspects of ethical frameworks, confidentiality, boundaries, and self-care.
Gain insights into outcome assessment and the evaluation of counselling effectiveness.
Explore the practicalities and considerations of telecounselling and working online.
You will learn through a variety of ways including video lessons, reading, reflection exercises and multiple-choice quizzes. This course is suitable for those who are new to counselling, or those with existing counselling skills who are looking to understand the person-centred approach.
About Level 2
Level 2 is an introductory level qualification suitable for all. They typically do not require prior experience and will take 6-12 weeks to complete based on studying one module per week. See the course description for information specific to this course.
Reviews
"This was a great course as an introduction to person-centred therapy. The course leader was very engaging and the content was delivered in such a way that it was interesting and easy to understand."

Emma Cooper
"This was a great course. Well presented with lots of useful and practical information. I feel confident applying what I have learnt in helping others. I highly recommend this course."

Scott Burtonclay
"It's been a great learning. Have been an academic and educator for over two decades and therefore also acted as a counsellor and mentor. This course has structured my innate thoughts and methods in through a scientific approach."

Triveni Goswami Mathur
Meet your instructor
Chris Worfolk
Chris is a psychologist and teacher. He holds an MSc in Psychology (Conversion) from Leeds Beckett University and is a Graduate Member of the British Psychological Society.
Chris is the author of multiple books including Do More, Worry Less. He ie the founder the of mental health charity Anxiety Leeds and is co-owner of the Leeds Anxiety Clinic.
What you will achieve
Completing the course will earn you a Level 2 Award in Person-Centred Counselling awarded by Holbeck College and accredited by the International Association of Therapists. You will receive a digital certificate.
Employers and other educational institutions will be able to validate your qualification using our online validation tool.
Here is an example certificate from our Level 1 Counselling Concepts course.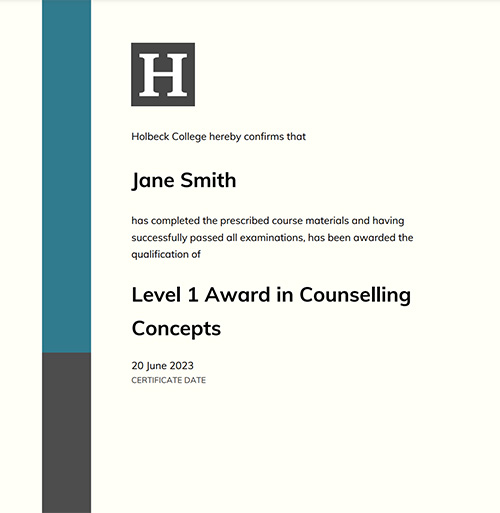 Registration
This course is available via our on-demand platform. You can learn at your own pace but you will have access to your tutor if you have any questions or need additional support. Have some questions before joining the course? Reach out via the contact us page.
Why study with us?
100% online

Access your training from anywhere.

Self-paced

Work at your own pace using our virtual learning environment.

Tutor support

Got a question? No problem, just contact your tutor.

Accredited

Evidence-based courses approved by CPD bodies.

Certificate

Download your certificate once you have completed the course.

No risk

Buy with confidence with our 30-day money-back guarantee.