Yoga Teacher Training
Deepen your yoga practice and learn to teach others with our teacher training course.
Study time
7 hours
Level
Level 2
Start date
7 December 2023
Preview
Are you looking to take your first steps in becoming a yoga teacher?
If so, this is the course for you. We will cover all of the core concepts teachers need to know about including yogic philosophy, human anatomy, safety, physical poses (asanas), breathing exercises (pranayamas), sequencing classes and more.
This course is designed to provide individuals with the introductory knowledge and skills necessary to become a confident and competent yoga teacher. Drawing on the principles of yoga philosophy, anatomy, physiology, and teaching methodology, the course offers a comprehensive training programme for aspiring and experienced yoga teachers.
The course will cover the fundamentals of yoga, including the history and evolution of yoga practice, the philosophy behind yoga, and the different styles of yoga. Students will develop a deep understanding of yoga postures, breathing techniques, and meditation, as well as how to sequence and teach them effectively.
The course will also cover effective communication and teaching techniques, providing students with the tools to create a safe and supportive environment for their students. Students will develop an understanding of the business aspects of teaching yoga, including marketing, branding, and ethical considerations.
What you'll learn:
Yogic philosophy, history, and the eight limbs of yoga
Anatomy and understanding the body
How to create a safe environment to practice yoga
Asanas (physical poses) and how to do each one
Pranayama (breathing exercises) and how to do each one
How to sequence poses to create a structured class
Teaching skills
Working as a professional yoga instructor
Adapting yoga for different population groups
We'll learn through videos, reading, exercises and quizzes so whatever your learning style there will be something in this course for you. Example classes are also included. By the end of the course, you will have a comprehensive understanding of the fundamentals of yoga and take your first steps in teaching yoga classes.
Please note that this is an introductory course and not an RYT-200 qualification. It's perfect for students wanting to learn the fundamentals of teaching yoga, or as a preparatory course for moving onto a Yoga Alliance 200-hour Registered Yoga Teacher course.
About Level 2
Level 2 is an introductory level qualification suitable for all. They typically do not require prior experience and will take 6-12 weeks to complete based on studying one module per week. See the course description for information specific to this course.
Reviews
"This course has been very helpful, with a lot of useful information. Doesn't disappoint. Thank you!"

Luísa Almeida
"Simple, clear and easy to absorb. Good concept and structure!"

Lena Christiansen
"For someone who felt they were too out of shape to do yoga, but loved the idea of it, this course really explores the ins and outs of yoga and gives me the confidence I need for beginning this journey"

Kevin Reed
Meet your instructor
Chris Worfolk
Chris is a psychologist and teacher. He holds an MSc in Psychology (Conversion) from Leeds Beckett University and is a Graduate Member of the British Psychological Society. In addition, Chris is a Yoga Alliance-certified Registered Yoga Teacher.
Chris's dissertation was the first paper to examine the effectiveness of mindfulness mHealth apps in clinical populations. He is the author of multiple books including Do More, Worry Less, and co-founder of the Leeds Anxiety Clinic.
What you will achieve
Completing the course will earn you a Level 2 Award in Yoga Teaching awarded by Holbeck College and accredited by the International Association of Therapists. You will receive a digital certificate.
Employers and other educational institutions will be able to validate your qualification using our online validation tool.
Here is an example certificate from our Level 1 Counselling Concepts course.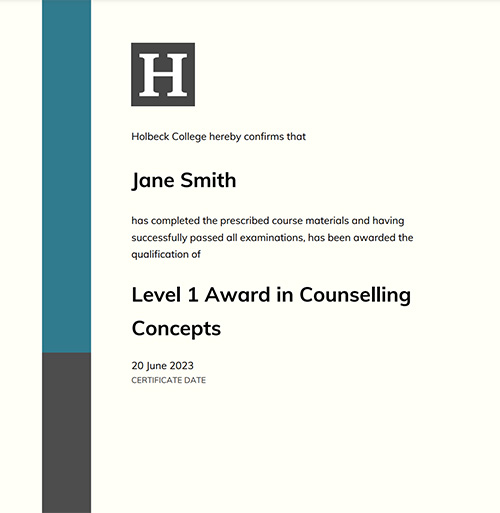 Registration
This course is available via our on-demand platform. You can learn at your own pace but you will have access to your tutor if you have any questions or need additional support. Have some questions before joining the course? Reach out via the contact us page.
Why study with us?
100% online

Access your training from anywhere.

Self-paced

Work at your own pace using our virtual learning environment.

Tutor support

Got a question? No problem, just contact your tutor.

Accredited

Evidence-based courses approved by CPD bodies.

Certificate

Download your certificate once you have completed the course.

No risk

Buy with confidence with our 30-day money-back guarantee.