Transactional Analysis
Learn how psychodynamics helps people understand themselves via their Parent-Adult-Child ego states.
Study time
8 hours
Level
Level 2
Start date
26 September 2023
Preview
Transactional Analysis (TA) is a form of psychotherapy that uses our interactions with others to better understand ourselves, our behaviour, and how to make changes in our lives. This course will provide you with a comprehensive introduction to the theory, techniques and uses of Transactional Analysis.
This course is suitable for both mental health professionals and individuals looking to further develop their self-understanding. Whether you are a psychotherapist, counsellor, helping professional, psychology student, or looking to work on your own mental health, this course will help us gain greater insight into ourselves and those around us.
Transactional Analysis proposes that we carry our parents' values and childhood fears through into adulthood. This forms our script, causing us to continue to follow these unhelpful patterns in adulthood that lead to us subconsciously playing out negative behaviours and destructive games. By better understanding ourselves we can move out of this script and into autonomy: recapturing intimacy and spontaneity and reducing anxiety and depression.
We will cover:
The core principles of Transactional Analysis, from those originally developed by Eric Berne to modern developments in TA counselling techniques
How Parent-Adult-Child ego-states and life-scripts are used to understand how our childhood affects our behaviour today
How we can analyse our communication with others, exploring the ulterior motives, our need for affection, filtering out compliments and the drama triangle
Transactional Analysis techniques including observation, decontamination, confronting games, giving permissions and recognising ego-states
As well as looking at the theory, techniques and practicalities, we'll apply Transactional Analysis to a range of problems. Case studies include depression, burnout, perfectionism, addiction, and relationship issues.
About Level 2
Level 2 is an introductory level qualification suitable for all. They typically do not require prior experience and will take 6-12 weeks to complete based on studying one module per week. See the course description for information specific to this course.
Reviews
"Very clear and concise explanation. Made sense."

Dominic Martin
"Great explanations, clear, with examples and a very positive attitude!"

Nadia Comanici
"I was a bit daunted by this initially, but yet again Chris's simple explanations are making it easy to understand."

George Chaplin
Meet your instructor
Chris Worfolk
Chris is a psychologist and teacher. He holds an MSc in Psychology (Conversion) from Leeds Beckett University and is a Graduate Member of the British Psychological Society.
Chris is the author of multiple books including Do More, Worry Less. He ie the founder the of mental health charity Anxiety Leeds and is co-owner of the Leeds Anxiety Clinic.
What you will achieve
Completing the course will earn you a Level 2 Award in Transactional Analysis awarded by Holbeck College and accredited by the International Association of Therapists. You will receive a digital certificate.
Employers and other educational institutions will be able to validate your qualification using our online validation tool.
Here is an example certificate from our Level 1 Counselling Concepts course.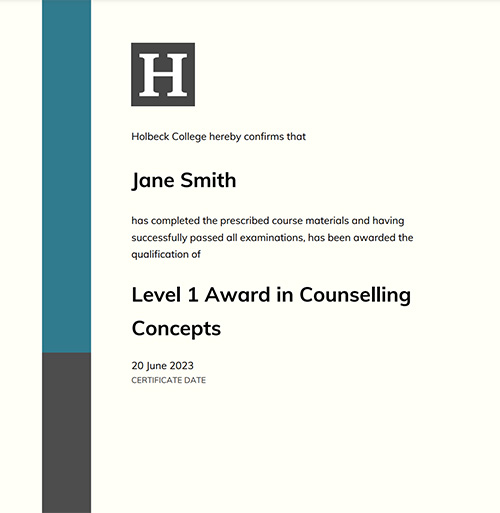 Registration
This course is available via our on-demand platform. You can learn at your own pace but you will access to your tutor if you have any questions or need additional support. Have some questions before joining the course? Reach out via the contact us page.
Why study with us?
100% online

Access your training from anywhere.

Self-paced

Work at your own pace using our virtual learning environment.

Tutor support

Got a question? No problem, just contact your tutor.

Accredited

Evidence-based courses approved by CPD bodies.

Certificate

Download your certificate once you have completed the course.

No risk

Buy with confidence with our 30-day money-back guarantee.