Solution-Focused Brief Therapy (SFBT)
Learn how SFBT helps people solve problems by focusing on strengths.
Study time
6 hours
Level
Level 2
Start date
7 December 2023
Preview
Solution-Focused Brief Therapy (SFBT) is a form of psychotherapy that focuses on solutions rather than problems. In this introductory course, you will learn about the core concepts, theories and skills used in SFBT.
What makes it different from other forms of counselling? It is solution-focused rather than problem-focused in that most of the time is spent talking about a client's strengths, accomplishments (known as exceptions) and solutions to problems. This is in contrast to traditional psychotherapy which is problem-focused: all of the time is spent talking about problems. SFBT focuses on what the client can do rather than what they can't.
Secondly, it's brief. SFBT rejects the idea that psychotherapy needs to be many weeks of regular appointments. Instead, it proposes that we get to work helping clients straight away, working with the client's agenda, and spacing sessions out more widely.
Solution-Focused Brief Therapy can be applied to a wide range of problems including depression, anxiety, mental health, substance abuse, relationships and couples, and much more. We'll look at what its founders, Steve de Shazer and Insoo Kim Berg, said as well as more up-to-date research on the topic.
This course is an invaluable gateway to comprehending the core principles of SFBT and its practical application. It is a foundational resource for psychotherapists and mental health professionals interested in exploring SFBT, as well as individuals aspiring to apply ACT principles to enhance their own wellbeing.
Throughout the course, you will delve into the theoretical foundations, practical techniques, and the underlying principles of SFBT, which include:
Understanding SFBT Fundamentals: Gain a comprehensive understanding of Solution-Focused Brief Therapy (SFBT), its distinctive characteristics, and how it compares to other therapeutic approaches.
Exploring SFBT Concepts and Assumptions: Delve into the core concepts, assumptions, and tenets of SFBT, embracing its constructivist and non-medical model foundations.
Navigating the SFBT Process: Examine the step-by-step approach to conducting SFBT sessions, including the structure of therapy, contracting, and ending the work.
SFBT Techniques: Learn about essential techniques used in SFBT, such as problem-free talk, best hopes, exception-based questioning, and scaling questions.
Unlocking the Miracle Question: Understand the significance of the miracle question in SFBT and learn how to pose this question effectively to help clients envision their preferred future.
Leveraging Scale Questions: Explore the use of scale questions in SFBT, discovering how to help clients identify strengths, set goals, and measure progress.
Building a Strong Therapeutic Alliance: Learn about the importance of the therapeutic alliance in SFBT, including the core conditions that facilitate change and essential skills for counsellors.
Practical Application of SFBT: Gain insights into what it's like to work with SFBT in practice, covering informed consent, confidentiality, supervision, and integrative approaches.
The course is thoughtfully designed, featuring video lectures, downloadable resources, quizzes, practical exercises, and a comprehensive course handbook. We will use examples and exercises throughout the course to help you embed the knowledge. We'll also look at a series of case studies to show you what SFBT looks like when applied to depression, problems at school and couples counselling.
No prior knowledge of SFBT is required for this course. All concepts will be explained from the ground up.
About Level 2
Level 2 is an introductory level qualification suitable for all. They typically do not require prior experience and will take 6-12 weeks to complete based on studying one module per week. See the course description for information specific to this course.
Reviews
"It is very easy to follow. Very well presented."

Khin Myint
"I'm really enjoying it. The trainer has given full explanations to everything discussed and the example of the dialogue with therapist and school boy gave a step by step demonstration of how to use this method. I am really enjoying the course, I like the variety of questioning involved, always focusing on the client and their answers. I also think the exceptions are an excellent way to support solution Building"

Denise McCall-Ryan
"It broaden my understanding of SFBT. It was easy to follow. I feel watching this every couple of months would assist me greatly in my practice. I'm confident I will learn something new every time."

Lytara Garcia
Meet your instructor
Chris Worfolk
Chris is a psychologist and teacher. He holds an MSc in Psychology (Conversion) from Leeds Beckett University and is a Graduate Member of the British Psychological Society.
Chris is the author of multiple books including Do More, Worry Less. He ie the founder the of mental health charity Anxiety Leeds and is co-owner of the Leeds Anxiety Clinic.
What you will achieve
Completing the course will earn you a Level 2 Award in Solution-Focused Brief Therapy awarded by Holbeck College and accredited by the International Association of Therapists. You will receive a digital certificate.
Employers and other educational institutions will be able to validate your qualification using our online validation tool.
Here is an example certificate from our Level 1 Counselling Concepts course.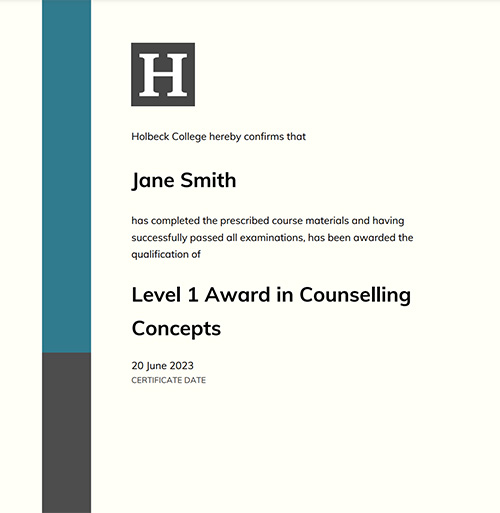 Registration
This course is available via our on-demand platform. You can learn at your own pace but you will have access to your tutor if you have any questions or need additional support. Have some questions before joining the course? Reach out via the contact us page.
Why study with us?
100% online

Access your training from anywhere.

Self-paced

Work at your own pace using our virtual learning environment.

Tutor support

Got a question? No problem, just contact your tutor.

Accredited

Evidence-based courses approved by CPD bodies.

Certificate

Download your certificate once you have completed the course.

No risk

Buy with confidence with our 30-day money-back guarantee.