Social Psychology
Master the core concepts of social psychology.
Study time
11 hours
Level
Level 2
Start date
7 December 2023
Preview
Are you looking for a concise yet comprehensive introduction to social psychology? Do you want to better understand how other people think and act? How groups function together and the effect of social influence?
In this course, I'll provide you with an introduction to the key topics within social psychology. We'll look at:
Understanding ourselves and others
Attitudes
Group processes and behaviour
Social influence and persuasion
Love and relationships
Cultural issues like racism and sexism
And much more!
It is an academic overview, but presented in a fun way with real-world examples, like what we can learn from climate change, elections, and even online dating.
We'll start by looking at how we understand ourselves and build our concept of self. We'll then look at attribution (how do we understand why other people do what they do) and how people's behaviour changes in groups. This includes group processes, what happens when people don't pull their weight and how groupthink can occur. We'll also look at love and relationships and how we interact on an intimate level.
We'll explore social influence, including conformity, obedience and compliance, and persuasion: how can we apply what we have learnt to make persuasive arguments and convince others. We'll look at attitudes and how these affect our feelings and behaviours, and why we engage in prosocial behaviour.
Finally, we'll take social psychology to a macro level: how does social psychology play out on a social level with issues such as racism, sexism and how capitalism shapes who we are.
About Level 2
Level 2 is an introductory level qualification suitable for all. They typically do not require prior experience and will take 6-12 weeks to complete based on studying one module per week. See the course description for information specific to this course.
Reviews
"Good basic course on social psychology. Explained in a simple way, covering major technical terms and biases - both individual and collective as a society."

Aromal Satjayababu
"Excellent topics, easy to understand and follow. Very thorough and in depth course materials. "

David Morrah
"Even if I read before about most of the topics (as a non psychologist, but interested on how this can be useful for my work with sustainable development projects and the corresponding social and behavior changes needed), I found the course gives a very good summary/introduction, well explained with clear examples... and funny. And I appreciated a lot how climate change, sexism, racism, capitalism and intersectionality were approached."

Rita Muckenhirn
Meet your instructor
Chris Worfolk
Chris is a psychologist and teacher. He holds an MSc in Psychology (Conversion) from Leeds Beckett University and is a Graduate Member of the British Psychological Society.
Chris is the author of multiple books including Do More, Worry Less. He ie the founder the of mental health charity Anxiety Leeds and is co-owner of the Leeds Anxiety Clinic.
What you will achieve
Completing the course will earn you a Level 2 Award in Social Psychology awarded by Holbeck College and accredited by the International Association of Therapists. You will receive a digital certificate.
Employers and other educational institutions will be able to validate your qualification using our online validation tool.
Here is an example certificate from our Level 1 Counselling Concepts course.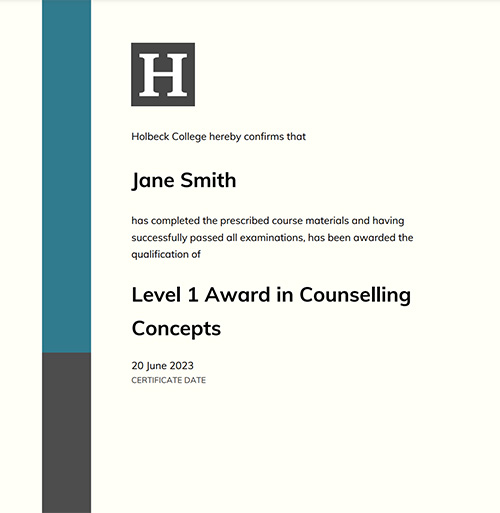 Registration
This course is available via our on-demand platform. You can learn at your own pace but you will have access to your tutor if you have any questions or need additional support. Have some questions before joining the course? Reach out via the contact us page.
Why study with us?
100% online

Access your training from anywhere.

Self-paced

Work at your own pace using our virtual learning environment.

Tutor support

Got a question? No problem, just contact your tutor.

Accredited

Evidence-based courses approved by CPD bodies.

Certificate

Download your certificate once you have completed the course.

No risk

Buy with confidence with our 30-day money-back guarantee.