Rational Emotive Behaviour Therapy (REBT)
Study the original cognitive behavioural therapy.
Study time
8 hours
Level
Level 2
Start date
7 December 2023
Preview
Rational Emotive Behaviour Therapy (REBT) is a psychotherapeutic approach that helps individuals identify and change irrational beliefs and thought patterns to manage their emotional and behavioural responses more effectively. In this introductory course, you will learn about the core concepts, theories and skills used in REBT.
Rational Emotive Behaviour Therapy (REBT) is deeply rooted in the cognitive model and illuminates the intricate connection between our beliefs, emotions, and actions. It reveals that our experiences aren't solely shaped by external events but are significantly influenced by our beliefs about these occurrences. REBT guides individuals in recognising the profound impact of their beliefs on emotional and behavioural responses.
Within the REBT therapeutic process, the focus is on pinpointing and restructuring irrational beliefs, which are often at the heart of emotional and psychological struggles. These irrational beliefs can trigger unhelpful emotions and behaviours. Through the identification and rational scrutiny of these beliefs, REBT empowers individuals to substitute them with rational, healthier beliefs.
By fostering this cognitive shift, REBT equips individuals with valuable tools to handle life's challenges more effectively, promoting emotional well-being and a more adaptive approach to life. It's a process of self-discovery and personal growth, empowering individuals to harness the power of their thoughts and beliefs for a fulfilling life. REBT has a strong evidence base and is used to solve anxiety, depression, OCD, trauma and much more.
This course is an invaluable gateway to comprehending the core principles of REBT and its practical application. It is a foundational resource for psychotherapists and mental health professionals interested in exploring REBT, as well as individuals aspiring to apply REBT principles to enhance their own wellbeing.
In the lessons, we will cover:
Exploring REBT Fundamentals: Gain an in-depth understanding of Rational Emotive Behaviour Therapy (REBT), delving into its history and distinguishing it from other therapeutic models.
Comprehending REBT Theory: Grasp the theoretical foundations of REBT, including the cognitive model, ABCDE framework, and the role of irrational beliefs in emotional distress.
Mastering the REBT Treatment Model: Explore the ABCDE framework and learn about client expectations in the REBT process.
Understanding Cognitive Strategies: Learn how to effectively communicate the cognitive model of REBT and various techniques for disputing irrational beliefs.
Implementing Emotive Strategies: Gain insight into managing emotions, distinguishing between healthy and unhealthy emotional responses.
Utilizing Behavioural Strategies: Understand practical applications, such as exposure therapy and shame-attacking, for altering behavioural patterns.
Assigning Homework Effectively: Understand the importance of assigning and structuring homework assignments for clients, such as thought records.
Building Strong Working Alliances: Learn about fostering strong working alliances through empathy and genuineness.
Skills Training: Understand skills training within the context of REBT, focusing on social, problem-solving, and practical skills.
Applying of REBT: Explore how REBT techniques can be applied to various mental health conditions, including anxiety, phobias and social phobia, depression, obsessive-compulsive disorder (OCD) and post-traumatic stress disorder (PTSD), as well as a series of case studies including problems at work and relationship issues.
We will learn through videos, readings, handouts, quizzes and practical exercises so whatever your learning style, there will be something in this course for you. No prior knowledge of REBT is required for this course as all concepts are explained from the ground up.
About Level 2
Level 2 is an introductory level qualification suitable for all. They typically do not require prior experience and will take 6-12 weeks to complete based on studying one module per week. See the course description for information specific to this course.
Reviews
"Excellent and informative! I really enjoy the way Chris presents his courses. He is knowledgable and friendly, with a very calm and sometimes humorous method. Looking forward to doing more of his courses!"

Jack Malan
"Very informative gives a excellent grounding in REBT principles."

Jonathan Varty
"I've enjoyed the short video clips for each section & short test & answers (2-3 Q&As) for knowledge check with no pressure. Excellent option of leaving & returning to the course sections at own pace, with motivating reminders to complete the course training successfully. Thank you so much!"

Veronica Lee
Meet your instructor
Chris Worfolk
Chris is a psychologist and teacher. He holds an MSc in Psychology (Conversion) from Leeds Beckett University and is a Graduate Member of the British Psychological Society.
Chris is the author of multiple books including Do More, Worry Less. He ie the founder the of mental health charity Anxiety Leeds and is co-owner of the Leeds Anxiety Clinic.
What you will achieve
Completing the course will earn you a Level 2 Award in Rational Emotive Behaviour Therapy awarded by Holbeck College and accredited by the International Association of Therapists. You will receive a digital certificate.
Employers and other educational institutions will be able to validate your qualification using our online validation tool.
Here is an example certificate from our Level 1 Counselling Concepts course.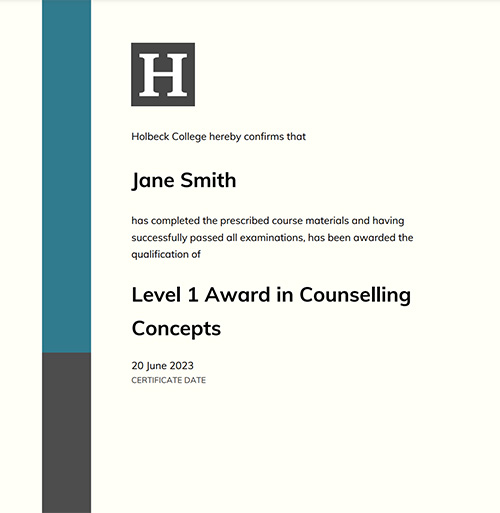 Registration
This course is available via our on-demand platform. You can learn at your own pace but you will have access to your tutor if you have any questions or need additional support. Have some questions before joining the course? Reach out via the contact us page.
Why study with us?
100% online

Access your training from anywhere.

Self-paced

Work at your own pace using our virtual learning environment.

Tutor support

Got a question? No problem, just contact your tutor.

Accredited

Evidence-based courses approved by CPD bodies.

Certificate

Download your certificate once you have completed the course.

No risk

Buy with confidence with our 30-day money-back guarantee.