Psychology of Successful People
Learn the ten essential attitudes and behaviours we can adopt to make ourselves happier and more successful.
Study time
4 hours
Level
Level 2
Start date
7 December 2023
Preview
What makes successful people successful and how we can replicate it? In this course, we will explore the ten principles that research suggests will make us happier and more successful. We will concentrate on attitudes and behaviours so each principle can be put into action. These principles are:
Understand thyself (self-understanding), how increasing our awareness of our desires, needs and ideal self guides our behaviour
Set a vision (vision), why the traditional view of goals requires more flexibility
Take more risks (risk taking), why humans are typically too risk-averse and how we can manage anxiety to change this
Accept what is (acceptance), how we can stop wasting energy wishing things were different and start doing more
Be humble (humility), why ego is destructive
Never stop learning (education) and the importance of lifelong education
Build a core skill base (common skills), the nine common skills that will help you in all walks of life
Make time for yourself (self-care), why working all the time is a false economy
Manage your time effectively (time management), reducing procrastination and increasing assertiveness to get important things done first
Connect with your tribute (environment) and building an environment you can thrive in
For each principle, I will explain what the principle is and how it works, be explicit about the benefits of following it, give practical suggestions as to how to implement it in your life, and explain how it connects to the other principles.
In addition to the video lessons and reading, you will get practical exercises and a workbook to complete to build your personal success plan.
About Level 2
Level 2 is an introductory level qualification suitable for all. They typically do not require prior experience and will take 6-12 weeks to complete based on studying one module per week. See the course description for information specific to this course.
Reviews
"It was an incredible match! I am so interested in psychology and I want to know why some people are successful in life and what they do differently than people who are not successful."

Isabelle Distler
"This is a great course so far! Getting to know more about the speaker Chris makes this more engaging!"

Susan Cubberley
"I find the information to be on point, and the exercises simple, but effective."

Gericke Potgieter
Meet your instructor
Chris Worfolk
Chris is a psychologist and coach. He holds an MSc in Psychology (Conversion) from Leeds Beckett University and is a Graduate Member of the British Psychological Society. He holds coaching qualifications with British Triathlon, IRONMAN and British Athletics.
What you will achieve
Completing the course will earn you a Level 2 Award in Psychology of Successful People awarded by Holbeck College and accredited by the International Association of Therapists. You will receive a digital certificate.
Employers and other educational institutions will be able to validate your qualification using our online validation tool.
Here is an example certificate from our Level 1 Counselling Concepts course.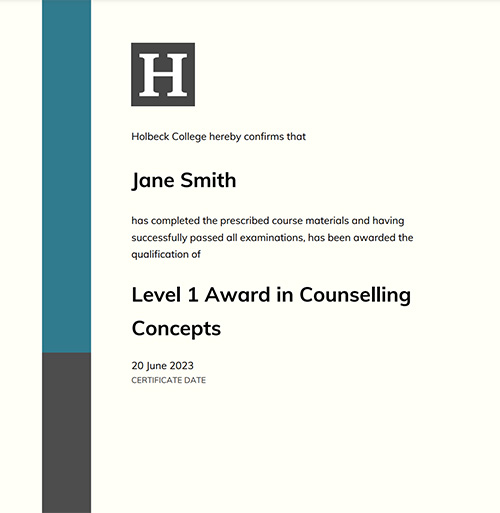 Registration
This course is available via our on-demand platform. You can learn at your own pace but you will have access to your tutor if you have any questions or need additional support. Have some questions before joining the course? Reach out via the contact us page.
Why study with us?
100% online

Access your training from anywhere.

Self-paced

Work at your own pace using our virtual learning environment.

Tutor support

Got a question? No problem, just contact your tutor.

Accredited

Evidence-based courses approved by CPD bodies.

Certificate

Download your certificate once you have completed the course.

No risk

Buy with confidence with our 30-day money-back guarantee.