Motivational Interviewing
Learn Motivational Interviewing and help people build motivation with the science of helping people change
Study time
6 hours
Level
Level 2
Start date
26 September 2023
Preview
Are you a coach, counsellor, manager or seeking to enhance your ability to inspire positive change in others? If so, this course on Motivational Interviewing is your guide to unlocking the art of guiding individuals towards transformational shifts in their behaviours and perspectives.
Course Overview
In this meticulously crafted course, you will delve into the world of Motivational Interviewing (MI), a proven methodology designed to foster intrinsic motivation and resolve ambivalence in the process of change. Developed by renowned clinical psychologists William R. Miller and Stephen Rollnick, MI has evolved into a dynamic and powerful technique used across various fields to facilitate sustainable personal growth.
Why Choose This Course?
Our course provides an in-depth exploration of MI, covering its core principles, strategies, and real-world applications. Through engaging lessons, practical exercises, and insightful case studies, you'll gain a deep understanding of empathetic communication, effective questioning, and active listening. You'll acquire a profound understanding of the four key processes of MI – Engaging, Focusing, Evoking, and Planning – and learn to seamlessly incorporate these techniques into your professional interactions.
Course Highlights
Understand the origins and evolution of Motivational Interviewing
Develop a solid foundation in MI principles, including the collaborative "spirit"
Master reflective listening and overcome communication barriers
Use open-ended questions, affirmations, and summaries effectively
Navigate ambivalence and resistance with confidence
Elicit and amplify change talk to drive meaningful transformation
Utilise evocative techniques to empower clients or patients
Skilfully address sustain talk and discord
Create effective action plans and reinforce commitment
Apply MI techniques across diverse settings, from healthcare to coaching
Who Should Take This Course?
This course is suitable for seasoned professionals looking to enhance their therapeutic toolkit, as well as those new to the realm of behaviour change facilitation. Ideal for healthcare providers, counsellors, therapists, coaches, educators, and anyone seeking to empower others in their personal growth journey.
The course comes with a comprehensive handbook and is assessed by a series of multiple-choice quizzes.
About Level 2
Level 2 is an introductory level qualification suitable for all. They typically do not require prior experience and will take 6-12 weeks to complete based on studying one module per week. See the course description for information specific to this course.
Meet your instructor
Chris Worfolk
Chris is a psychologist and coach. He holds an MSc in Psychology (Conversion) from Leeds Beckett University and is a Graduate Member of the British Psychological Society. He holds coaching qualifications with British Triathlon, IRONMAN and British Athletics.
What you will achieve
Completing the course will earn you a Level 2 Award in Motivational Interviewing awarded by Holbeck College and accredited by the International Association of Therapists. You will receive a digital certificate.
Employers and other educational institutions will be able to validate your qualification using our online validation tool.
Here is an example certificate from our Level 1 Counselling Concepts course.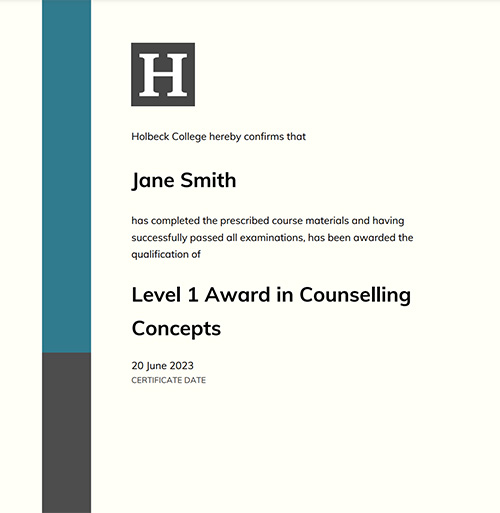 Registration
This course is available via our on-demand platform. You can learn at your own pace but you will access to your tutor if you have any questions or need additional support. Have some questions before joining the course? Reach out via the contact us page.
Why study with us?
100% online

Access your training from anywhere.

Self-paced

Work at your own pace using our virtual learning environment.

Tutor support

Got a question? No problem, just contact your tutor.

Accredited

Evidence-based courses approved by CPD bodies.

Certificate

Download your certificate once you have completed the course.

No risk

Buy with confidence with our 30-day money-back guarantee.