Mindfulness for Social Anxiety
Overcome social phobia and shyness using mindfulness meditation.
Study time
2 hours
Level
Level 1
Start date
7 December 2023
Preview
Do social gatherings and events fill you with unease? Is the prospect of awkward silences and unfamiliar faces a source of anxiety for you? Would you like to embark on a journey of self-discovery and confidence-building, allowing you to navigate the social world with ease and grace? If you're seeking relief from the clutches of social anxiety, this is the course for you.
This course is your gateway to the profound practice of mindfulness—a transformative approach that involves a deliberate and non-judgmental focus on the present moment. It's the key to dismantling the negative thoughts that often wield power over us in social situations.
Building upon the foundation laid in our free '5-Day Mindfulness for Anxiety' course, 'Mindfulness for Social Anxiety' dives deep into the intricacies of social anxiety. Drawing inspiration from the effective methods of Cognitive Behavioral Therapy (CBT) and Mindfulness-Based Cognitive Therapy (MBCT), this course combines therapeutic wisdom to help you conquer your social fears.
What you will learn:
Core Mindfulness Skills: Begin your journey with the development of fundamental mindfulness skills. These will provide the essential building blocks for overcoming social anxiety.
Targeted Exposure Exercises: Unlock a series of exposure exercises designed specifically to tackle social anxiety. These exercises help you build resilience and confront your anxieties head-on.
Preparing for Social Success: Access a toolkit of warm-up and cool-down meditations. These are invaluable for navigating high-pressure social events, such as work Christmas parties, gatherings with friends, or crowded social occasions.
Each meditation is thoughtfully crafted to fit into a ten-minute window, making them accessible and easy to incorporate into your daily routine. The guided audio format ensures that you have a supportive companion along your journey towards confidence and ease.
Don't let social anxiety hold you back from connecting with others and enjoying the richness of social life. Embrace the transformative power of mindfulness with 'Mindfulness for Social Anxiety' and discover the self-assured, social dynamo within you. Your path to a more confident and socially fulfilled self begins here.
About Level 1
Level 1 is an entry-level qualification suitable for all and can typically be completed within one day. See the course description for any additional information.
Meet your instructor
Chris Worfolk
Chris is a psychologist and teacher. He holds an MSc in Psychology (Conversion) from Leeds Beckett University and is a Graduate Member of the British Psychological Society. In addition, Chris is a Yoga Alliance-certified Registered Yoga Teacher.
Chris's dissertation was the first paper to examine the effectiveness of mindfulness mHealth apps in clinical populations. He is the author of multiple books including Do More, Worry Less, and co-founder of the Leeds Anxiety Clinic.
What you will achieve
Completing the course will earn you a Level 1 Award in Mindfulness for Social Anxiety awarded by Holbeck College and accredited by the International Association of Therapists. You will receive a digital certificate.
Employers and other educational institutions will be able to validate your qualification using our online validation tool.
Here is an example certificate from our Level 1 Counselling Concepts course.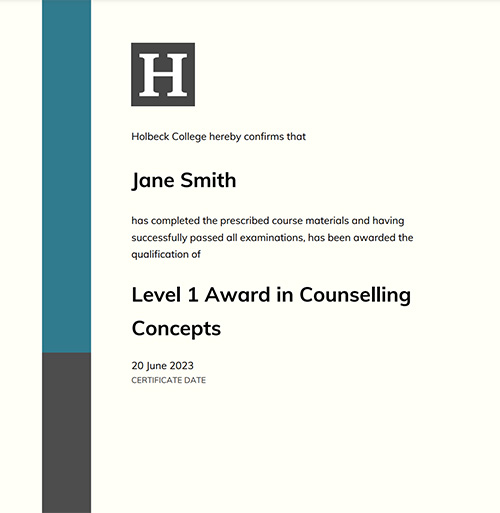 Registration
This course is available via our on-demand platform. You can learn at your own pace but you will have access to your tutor if you have any questions or need additional support. Have some questions before joining the course? Reach out via the contact us page.
Why study with us?
100% online

Access your training from anywhere.

Self-paced

Work at your own pace using our virtual learning environment.

Tutor support

Got a question? No problem, just contact your tutor.

Accredited

Evidence-based courses approved by CPD bodies.

Certificate

Download your certificate once you have completed the course.

No risk

Buy with confidence with our 30-day money-back guarantee.