Mindfulness for Sleep & Insomnia
Sleep better using mindfulness meditation, overcome sleep disorder and feel good.
Study time
3 hours
Level
Level 1
Start date
7 December 2023
Preview
This 7-day course is designed to help you improve your sleep quality and overcome insomnia through the power of mindfulness. You will learn how to develop a mindful approach to sleep that can transform your relationship with rest and help you achieve deep, restorative sleep.
Through guided meditation, breathing exercises, and other mindfulness practices, you will learn to quiet your mind, soothe your body, and prepare yourself for restful sleep. You will also learn how to integrate mindfulness practices into your daily life, including your bedtime routine and other healthy sleep habits.
In addition to practical exercises, you will also learn the science behind mindfulness and sleep. You will gain an understanding of how mindfulness affects brain activity, and how it can promote relaxation and improve sleep quality.
This course is suitable for anyone interested in improving their sleep quality through mindfulness practices. Whether you struggle with occasional sleep difficulties or chronic insomnia, this course will help you develop the skills to transform your sleep patterns and achieve deep restorative sleep.
Upon completion of this course, you will be able to:
Understand the relationship between mindfulness and sleep, including the benefits of mindfulness for sleep quality and insomnia relief.
Learn and practice a variety of mindfulness techniques that promote relaxation, improve sleep quality, and reduce symptoms of insomnia.
Develop skills to integrate mindfulness practices into daily life, including bedtime routines and other healthy sleep habits.
Identify and address common obstacles to mindfulness and sleep, including anxiety, stress, and rumination.
Gain an understanding of the science behind mindfulness and sleep, including how mindfulness affects brain activity.
About Level 1
Level 1 is an entry-level qualification suitable for all and can typically be completed within one day. See the course description for any additional information.
Reviews
"I found this mindfulness course quite amazing. After many years of not sleeping well, I am actually sleeping for a change. Thanks, Chris for this short therapeutic insight course into mindfulness."

LDSPhoenix
Meet your instructor
Chris Worfolk
Chris is a psychologist and teacher. He holds an MSc in Psychology (Conversion) from Leeds Beckett University and is a Graduate Member of the British Psychological Society. In addition, Chris is a Yoga Alliance-certified Registered Yoga Teacher.
Chris's dissertation was the first paper to examine the effectiveness of mindfulness mHealth apps in clinical populations. He is the author of multiple books including Do More, Worry Less, and co-founder of the Leeds Anxiety Clinic.
What you will achieve
Completing the course will earn you a Level 1 Award in Mindfulness for Sleep & Insomnia awarded by Holbeck College and accredited by the International Association of Therapists. You will receive a digital certificate.
Employers and other educational institutions will be able to validate your qualification using our online validation tool.
Here is an example certificate from our Level 1 Counselling Concepts course.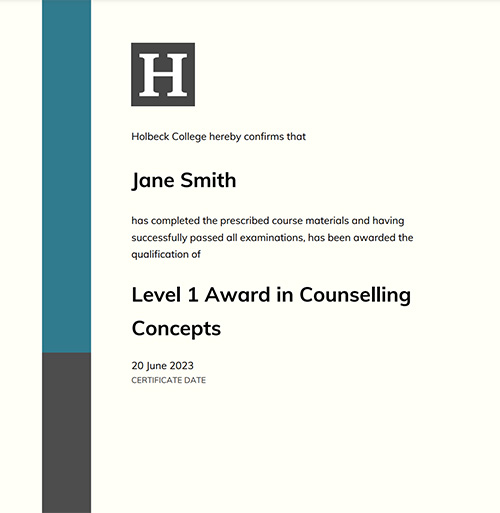 Registration
This course is available via our on-demand platform. You can learn at your own pace but you will have access to your tutor if you have any questions or need additional support. Have some questions before joining the course? Reach out via the contact us page.
Why study with us?
100% online

Access your training from anywhere.

Self-paced

Work at your own pace using our virtual learning environment.

Tutor support

Got a question? No problem, just contact your tutor.

Accredited

Evidence-based courses approved by CPD bodies.

Certificate

Download your certificate once you have completed the course.

No risk

Buy with confidence with our 30-day money-back guarantee.