Mindfulness for Resilience
Learn to build resilience, manage stress, solve problems and strengthen relationships using mindfulness
Study time
3 hours
Level
Level 1
Start date
26 September 2023
Preview
In an ever-changing, fast-paced world, resilience and mindfulness are two powerful tools that can help us navigate challenges, manage stress, and live more fulfilling lives.
This course is designed to help you cultivate a deeper sense of self-awareness, emotional intelligence, and personal resilience. This transformative journey, based on the scientific principles of mindfulness, will empower you with practical, hands-on skills to enhance your wellbeing, relationships, and personal and professional success.
This course is centred around a workplace environment and is designed with employees, executives and entrepreneurs in mind. However, the skills you will learn are relevant to everyday life and the course is suitable for anyone looking to increase their resilience. No previous experience of mindfulness is required.
The course is divided into seven concise modules:
Understanding Resilience: Explore the concept of resilience, why it's critical, and how mindfulness enhances it.
Developing Mindful Awareness: Learn about mindfulness, the power of the mind-body connection, and how to practice it.
Mindful Stress Management: Discover tools for managing stress, embracing present-moment awareness, and nurturing self-compassion.
Mindful Problem Solving: Develop flexible thinking, learn strategies for problem-solving, and understand experiential avoidance and acceptance.
Mindful Relationships: Learn how mindfulness can enhance your interpersonal relationships and improve communication.
Mindful Self-Care: Identify burnout, prioritise self-care, and develop a personal resilience plan.
Integrating Mindfulness into Everyday Life: Discover how to build a daily mindfulness practice and incorporate it into all aspects of your life.
Throughout the course, you will get the opportunity to try each of the skills using practical exercises that you can try at your desk, in the workplace, or in everyday life. By the end of the course, you will have a range of tools to manage stress and maintain productivity, even in difficult situations. Join me on this enlightening journey towards a more resilient, more mindful life.
About Level 1
Level is an entry-level qualification suitable for all and can typically be completed within one day. See the course description for any additional information.
Meet your instructor
Chris Worfolk
Chris is a psychologist and teacher. He holds an MSc in Psychology (Conversion) from Leeds Beckett University and is a Graduate Member of the British Psychological Society. In addition, Chris is a Yoga Alliance-certified Registered Yoga Teacher.
Chris's dissertation was the first paper to examine the effectiveness of mindfulness mHealth apps in clinical populations. He is the author of multiple books including Do More, Worry Less, and co-founder of the Leeds Anxiety Clinic.
What you will achieve
Completing the course will earn you a Level 1 Award in Mindfulness for Resilience awarded by Holbeck College and accredited by the International Association of Therapists. You will receive a digital certificate.
Employers and other educational institutions will be able to validate your qualification using our online validation tool.
Here is an example certificate from our Level 1 Counselling Concepts course.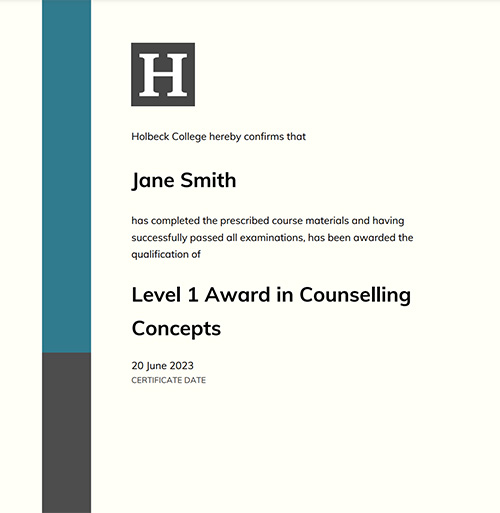 Registration
This course is available via our on-demand platform. You can learn at your own pace but you will access to your tutor if you have any questions or need additional support. Have some questions before joining the course? Reach out via the contact us page.
Why study with us?
100% online

Access your training from anywhere.

Self-paced

Work at your own pace using our virtual learning environment.

Tutor support

Got a question? No problem, just contact your tutor.

Accredited

Evidence-based courses approved by CPD bodies.

Certificate

Download your certificate once you have completed the course.

No risk

Buy with confidence with our 30-day money-back guarantee.