Mindfulness for Productivity
Use mindfulness meditation to reduce stress, boost productivity and improve time management.
Study time
3 hours
Level
Level 1
Start date
7 December 2023
Preview
Unlock your full productivity potential with mindfulness.
In today's fast-paced world, where we're constantly bombarded with tasks and deadlines, it's all too easy to feel overwhelmed, stressed, and anxious about our productivity. The never-ending to-do lists, the constant battle with procrastination, and the nagging feeling that we're not accomplishing enough can take a toll on our mental wellbeing. If you've experienced these productivity struggles, you're not alone. But there's a powerful tool that can transform the way you work and help you find both focus and happiness in your daily tasks: Mindfulness.
This course takes you on a comprehensive journey designed to elevate your productivity levels and enhance your overall wellbeing. It empowers you with ten expertly crafted, guided mindfulness practices that seamlessly integrate into your daily routine, helping you reclaim control over your productivity and achieve greater contentment.
This course will help you:
Ignite Your Motivation: Unleash a newfound sense of motivation and passion for your goals. With mindfulness, you'll reconnect with your purpose, driving you to tackle your tasks with enthusiasm.
Stress-Free Productivity: Say goodbye to the stress and guilt that often accompanies feelings of unproductivity. By incorporating mindfulness into your work, you'll transform your relationship with productivity, creating a harmonious, stress-free experience.
Laser Focus on What Matters: Mindfulness empowers you to sift through the noise and distractions, enabling you to prioritize the essential tasks that propel you toward your goals.
Overcome Obstacles Gracefully: Learn to handle obstacles and setbacks with resilience and grace. Instead of feeling defeated, you'll approach challenges as opportunities for growth.
Positive Start and Finish: Begin and end your day on a positive note with mindfulness practices tailored to create an optimal mindset for productivity.
This course is designed for everyone, regardless of your experience with mindfulness. We'll jump right into the practice videos, allowing you to follow along and start reaping the benefits immediately. Additionally, we'll explore the art and science of mindful meditation, providing you with a deeper understanding of the techniques and their psychological underpinnings.
Get ready to revolutionize your productivity and well-being with 'Mindfulness for Productivity'—a course that will empower you to work smarter, not harder, and enhance your life inside and outside the workplace.
About Level 1
Level 1 is an entry-level qualification suitable for all and can typically be completed within one day. See the course description for any additional information.
Meet your instructor
Chris Worfolk
Chris is a psychologist and teacher. He holds an MSc in Psychology (Conversion) from Leeds Beckett University and is a Graduate Member of the British Psychological Society. In addition, Chris is a Yoga Alliance-certified Registered Yoga Teacher.
Chris's dissertation was the first paper to examine the effectiveness of mindfulness mHealth apps in clinical populations. He is the author of multiple books including Do More, Worry Less, and co-founder of the Leeds Anxiety Clinic.
What you will achieve
Completing the course will earn you a Level 1 Award in Mindfulness for Productivity awarded by Holbeck College and accredited by the International Association of Therapists. You will receive a digital certificate.
Employers and other educational institutions will be able to validate your qualification using our online validation tool.
Here is an example certificate from our Level 1 Counselling Concepts course.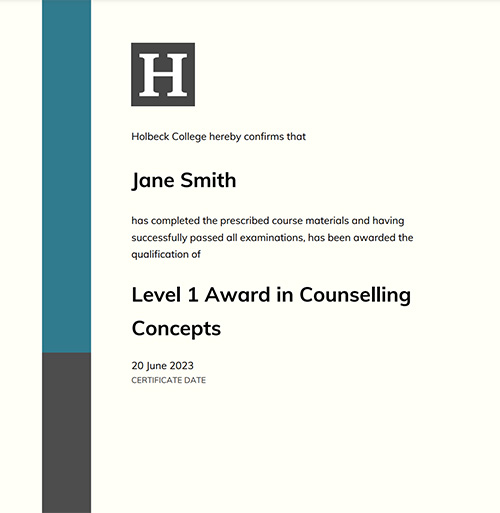 Registration
This course is available via our on-demand platform. You can learn at your own pace but you will have access to your tutor if you have any questions or need additional support. Have some questions before joining the course? Reach out via the contact us page.
Why study with us?
100% online

Access your training from anywhere.

Self-paced

Work at your own pace using our virtual learning environment.

Tutor support

Got a question? No problem, just contact your tutor.

Accredited

Evidence-based courses approved by CPD bodies.

Certificate

Download your certificate once you have completed the course.

No risk

Buy with confidence with our 30-day money-back guarantee.