Mindfulness for Health Anxiety
Reduce health anxiety and hypochondria using mindfulness meditation.
Study time
3 hours
Level
Level 1
Start date
7 December 2023
Preview
Are you someone who often finds themselves entangled in a web of health-related worries? Does the fear of severe illnesses like cancer or blood clots haunt your thoughts, potentially taking a toll on your mental and physical wellbeing? If health anxiety has been casting a shadow over your life, this is the course for you.
This course is your opportunity to embrace the profound practice of mindfulness—a technique that involves consciously and non-judgmentally focusing on the present moment. This mindfulness journey is specifically designed to help you break free from the shackles of health anxiety, providing you with the tools to confront and conquer those overwhelming negative thoughts.
Building upon the foundational knowledge gained in our free '5-Day Mindfulness for Anxiety' course, 'Mindfulness for Health Anxiety' delves deep into the intricacies of dealing with health-related concerns. Drawing inspiration from both Cognitive Behavioral Therapy (CBT) and Mindfulness-Based Cognitive Therapy (MBCT), this course blends the best of therapeutic approaches for your benefit.
Here's what the course has in store for you:
Core Mindfulness Skills: Kickstart your journey by acquiring a solid foundation of mindfulness practices. These skills are essential for breaking free from the chains of health anxiety.
Targeted Anxiety Exercises: Gain access to specific mindfulness exercises tailored to combat health anxiety. These practices are designed to help you regain control over your mind and body.
Understanding Health Anxiety: Dive deep into the roots of health anxiety. Discover why these concerns emerge and learn how to reinterpret the signals your body sends, allowing you to build self-confidence.
Each meditation exercise is thoughtfully designed to take only about ten minutes of your day. The guided audio format makes it easy to follow along, ensuring that your journey towards a calmer and happier version of yourself is accessible and impactful.
About Level 1
Level 1 is an entry-level qualification suitable for all and can typically be completed within one day. See the course description for any additional information.
Reviews
"Enlightening on the simple reasons of what actually causes anxiety and how to alleviate it on a daily basis."

Mary Amell
Meet your instructor
Chris Worfolk
Chris is a psychologist and teacher. He holds an MSc in Psychology (Conversion) from Leeds Beckett University and is a Graduate Member of the British Psychological Society. In addition, Chris is a Yoga Alliance-certified Registered Yoga Teacher.
Chris's dissertation was the first paper to examine the effectiveness of mindfulness mHealth apps in clinical populations. He is the author of multiple books including Do More, Worry Less, and co-founder of the Leeds Anxiety Clinic.
What you will achieve
Completing the course will earn you a Level 1 Award in Mindfulness for Health Anxiety awarded by Holbeck College and accredited by the International Association of Therapists. You will receive a digital certificate.
Employers and other educational institutions will be able to validate your qualification using our online validation tool.
Here is an example certificate from our Level 1 Counselling Concepts course.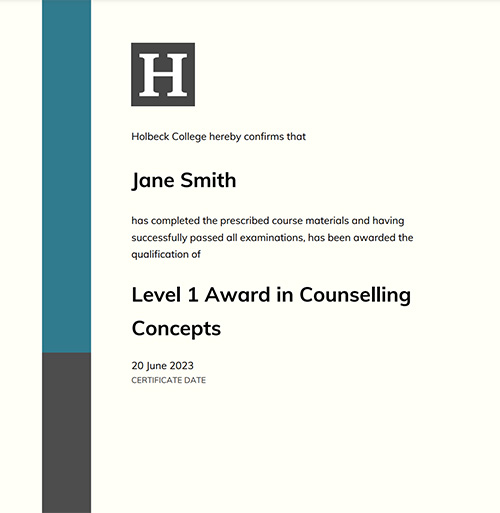 Registration
This course is available via our on-demand platform. You can learn at your own pace but you will have access to your tutor if you have any questions or need additional support. Have some questions before joining the course? Reach out via the contact us page.
Why study with us?
100% online

Access your training from anywhere.

Self-paced

Work at your own pace using our virtual learning environment.

Tutor support

Got a question? No problem, just contact your tutor.

Accredited

Evidence-based courses approved by CPD bodies.

Certificate

Download your certificate once you have completed the course.

No risk

Buy with confidence with our 30-day money-back guarantee.