Mindfulness-Based Cognitive Therapy (MBCT)
Learn how Mindfulness-Based Cognitive Therapy (MBCT) is used to treat depression and anxiety.
Study time
7 hours
Level
Level 2
Start date
7 December 2023
Preview
Mindfulness-Based Cognitive Therapy (MBCT) is an evidence-based treatment for depression and anxiety. it is designed to prevent relapse and reoccurrence by giving people a set of mindfulness and cognitive skills to manage their mental health. In this introductory course, you will learn about the core concepts, theories and skills used in MBCT.
Mindfulness-Based Cognitive Therapy (MBCT) is a therapeutic approach that combines elements of cognitive therapy with the principles of mindfulness. MBCT teaches participants to become more aware of their thoughts and feelings without judgment and to develop a healthier relationship with them. By enhancing mindfulness skills, MBCT aims to prevent relapses of depression by interrupting the automatic thought patterns and reactions that can lead to recurrent episodes.
This course provides a comprehensive understanding of MBCT, including its theoretical foundations, techniques, and applications, making it a valuable resource for mental health professionals and individuals seeking to improve their wellbeing.
Mindfulness-Based Cognitive Therapy was originally developed for depression but now has a strong evidence base for treating anxiety, and research continues to expand into other mental health conditions such as OCD and addiction, all of which will be discussed in this course.
This course will take you step-by-step through the Mindfulness-Based Cognitive Therapy programme as we learn to:
Develop greater awareness and switch off autopilot
Connect with our experiences
Bring greater focus and attentional control
Find new ways to deal with uncomfortable experiences
Build an action plan for better mental health
We will explore both the theoretical and practical sides of MBCT, looking at how and why it works and diving into MBCT techniques with a series of practice exercises that will help you develop your personal mindfulness practice and see how it works in the real world. We'll learn through videos, articles, quizzes, downloads and activities.
MBCT is a theoretical integration of mindfulness and cognitive therapy but is a standalone treatment so you do not need a background in either mindfulness or cognitive therapy to join this course as everything will be explained from the fundamentals.
About Level 2
Level 2 is an introductory level qualification suitable for all. They typically do not require prior experience and will take 6-12 weeks to complete based on studying one module per week. See the course description for information specific to this course.
Reviews
"This is now my third course with Chris and I already have my fourth lined up. Once again MBCT has been super interesting and I have learnt so much from Chris on this course and I highly recommend to anyone who is interested in applying Mindfulness into their practice."

Nichola Davis
"Decent course. Chris is a great tutor, it's like listening to a friend. Thank you!"

Caroline M
"Amazing and useful course taught by an awesome instructor. I am learning many tools and knowledge that i can put into practice in my daily life and my professional practice to help people with mental health to overcome their difficulties."

Adam Abdellatif Choukoukou
Meet your instructor
Chris Worfolk
Chris is a psychologist and teacher. He holds an MSc in Psychology (Conversion) from Leeds Beckett University and is a Graduate Member of the British Psychological Society.
Chris is the author of multiple books including Do More, Worry Less. He ie the founder the of mental health charity Anxiety Leeds and is co-owner of the Leeds Anxiety Clinic.
What you will achieve
Completing the course will earn you a Level 2 Award in Mindfulness-Based Cognitive Therapy awarded by Holbeck College and accredited by the International Association of Therapists. You will receive a digital certificate.
Employers and other educational institutions will be able to validate your qualification using our online validation tool.
Here is an example certificate from our Level 1 Counselling Concepts course.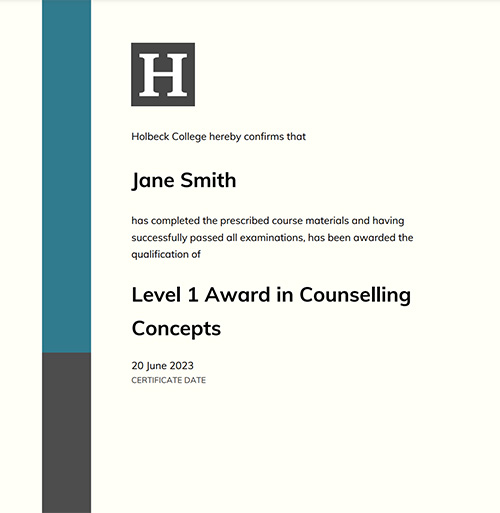 Registration
This course is available via our on-demand platform. You can learn at your own pace but you will have access to your tutor if you have any questions or need additional support. Have some questions before joining the course? Reach out via the contact us page.
Why study with us?
100% online

Access your training from anywhere.

Self-paced

Work at your own pace using our virtual learning environment.

Tutor support

Got a question? No problem, just contact your tutor.

Accredited

Evidence-based courses approved by CPD bodies.

Certificate

Download your certificate once you have completed the course.

No risk

Buy with confidence with our 30-day money-back guarantee.