Metacognitive Therapy
Study MCT, a cognitive psychotherapy based on CBT, that helps people tackle the root of their anxiety and depression.
Study time
4 hours
Level
Level 2
Start date
7 December 2023
Preview
Metacognitive Therapy is a psychological approach that focuses on identifying and changing an individual's patterns of thinking and beliefs about their thoughts, ultimately helping them manage and overcome mental health challenges. In this introductory course, you will learn about the core concepts, theories and skills used in Metacognitive Therapy.
Metacognitive Therapy (MCT) is founded on distinct core principles that set it apart from other therapeutic approaches. Fundamentally, MCT places a substantial emphasis on metacognition, which relates to an individual's awareness and comprehension of their own cognitive processes. MCT operates on the premise that it is not merely the content of one's thoughts but the way they think about their thoughts that gives rise to mental distress.
Metacognitive Therapy equips individuals to identify and amend unhelpful thought patterns and beliefs concerning their thinking, rather than exclusively concentrating on the content of their thoughts. MCT empowers individuals to cultivate more adaptive metacognitive strategies, leading to enhanced emotional regulation and the alleviation of symptoms associated with anxiety and depression.
In contrast to Cognitive Behavioural Therapy (CBT), MCT sets itself apart by addressing the thinking process rather than the content of thoughts. While CBT primarily focuses on challenging and altering negative thought patterns and beliefs, MCT adopts a more metacognitive stance, targeting how individuals perceive and interact with their thoughts. In MCT, individuals gain the ability to identify and restructure metacognitive beliefs, such as rumination and worry, which tend to sustain psychological distress. By shifting its focus to metacognition, MCT offers a fresh perspective on comprehending and managing mental health challenges.
Metacognitive Therapy is highly effective at reducing worry and rumination and is proven to reduce anxiety, PTSD, OCD and depression.
Whether you're a mental health professional (psychotherapist, counsellor, practitioner), a psychology student, or an individual seeking to enhance your understanding of the brain's inner workings and the mechanisms that can ensnare people in cycles of anxiety and depression, this course provides an excellent foundational knowledge. Throughout the course, you will delve into the theoretical foundations, practical techniques, and underlying principles of Metacognitive Therapy, which include:
Gain a comprehensive understanding of Metacognitive Therapy and its unique approach to mental health.
Differentiate between Metacognitive Therapy and other prominent therapeutic modalities, such as CBT, person-centred therapy, and psychodynamic approaches.
Explore the historical development, evidence, strengths, and limitations of Metacognitive Therapy.
Delve into the theoretical underpinnings of Metacognitive Therapy, including the core concepts of metacognitions, cognitive processes, and the Cognitive Attentional Syndrome (CAS).
Examine practical skills for applying Metacognitive Therapy, from initial assessment and identifying the CAS to using exposure techniques.
Learn about attentional training and detached mindfulness, two key components of Metacognitive Therapy.
Develop insights into the application of Metacognitive Therapy in addressing specific mental health conditions, including GAD, SAD, PTSD, OCD, and depression, through case studies.
The course is thoughtfully designed, featuring video lectures, downloadable resources, quizzes, practical exercises, and a comprehensive course handbook.
No prior knowledge of MCT or metacognition is required. An understanding of CBT or other counselling skills would be useful to understand how MCT differs from other therapies, along with a willingness to learn some challenging material. You will be supported throughout the course by a variety of learning styles and can ask questions at any point.
About Level 2
Level 2 is an introductory level qualification suitable for all. They typically do not require prior experience and will take 6-12 weeks to complete based on studying one module per week. See the course description for information specific to this course.
Reviews
"Very good way to have an understanding of the theory and I am excited to work on applying this in practice. But in saying that I also understand that there is a lot of work needed to be able to use this in my practice confidently and competently. Thanks for making this course, it really worthwhile."

Dhenny Dagos
"Very good overview of MCT. Also a good repetition and summary if you have done similar courses before."

Norbert Lender
"I know little about MCT so I am finding the course very interesting learning about what it is and how it compares to say CBT or person-centred therapy. Really glad that I am taking this course as am finding it engaging."

Nicola James
Meet your instructor
Chris Worfolk
Chris is a psychologist and teacher. He holds an MSc in Psychology (Conversion) from Leeds Beckett University and is a Graduate Member of the British Psychological Society.
Chris is the author of multiple books including Do More, Worry Less. He ie the founder the of mental health charity Anxiety Leeds and is co-owner of the Leeds Anxiety Clinic.
What you will achieve
Completing the course will earn you a Level 2 Award in Metacognitive Therapy awarded by Holbeck College and accredited by the International Association of Therapists. You will receive a digital certificate.
Employers and other educational institutions will be able to validate your qualification using our online validation tool.
Here is an example certificate from our Level 1 Counselling Concepts course.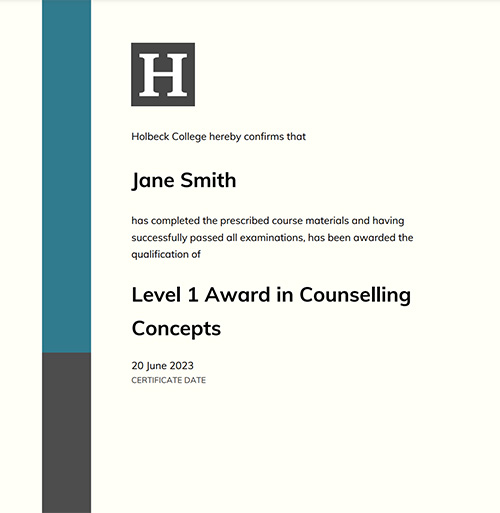 Registration
This course is available via our on-demand platform. You can learn at your own pace but you will have access to your tutor if you have any questions or need additional support. Have some questions before joining the course? Reach out via the contact us page.
Why study with us?
100% online

Access your training from anywhere.

Self-paced

Work at your own pace using our virtual learning environment.

Tutor support

Got a question? No problem, just contact your tutor.

Accredited

Evidence-based courses approved by CPD bodies.

Certificate

Download your certificate once you have completed the course.

No risk

Buy with confidence with our 30-day money-back guarantee.