Mental Health Ambassador
Want to provide mental health first aid and be an ambassador for better mental health? Learn to use the REAL Support Framework to help people struggling with mental health issues.
Study time
4 hours
Level
All
Start date
7 December 2023
Preview
Are you ready to embark on a transformative journey and become a certified Mental Health Ambassador? Do you have the passion to help others, promote mental health awareness, and create a positive impact within your community? If your answer is a resounding 'yes', then this comprehensive course is tailor-made to empower you with the knowledge, skills, and compassion needed to be a beacon of hope and support.
In the first segment of this course, we dive deep into the world of mental health. You'll gain a profound understanding of various mental health conditions and how to offer effective support. We introduce you to the Real Support Framework (REAL-SF), an invaluable 6-step guide to assist individuals in need. This framework equips you with the essential skills and knowledge required to provide mental health first aid to those in distress. You'll be well-prepared to offer guidance, empathy, and assistance to those facing challenges such as:
Depression
Anxiety
Panic attacks
Bereavement
Struggles with drugs and alcohol
Self-harm
Suicidal thoughts
Dementia
In the second part of the course, we shift the focus to the broader mission of promoting mental health. We believe that raising awareness and education is a powerful tool in creating a mentally healthier society. You'll learn how to be a catalyst for change in your social circles, among friends, colleagues, and even the wider public.
We explore ways to increase awareness, challenge stigma, and debunk myths surrounding mental health issues. By sharing your own experiences, telling your story, and acting as a role model, you'll inspire others to open up about their struggles and seek the help they need. The course also touches on the practical side of promoting mental health, including organising events and potential careers in the mental health field.
No prior knowledge is required to undertake this course as everything will be explained from the ground up. Please note that while becoming a Mental Health Ambassador equips you with valuable skills to support and promote mental health, it's important to understand that this role does not make you a mental health professional. What truly matters is your sincere commitment to improving mental health and creating a more compassionate, understanding, and supportive world. Join us and become a Mental Health Ambassador, making a positive impact on those facing mental health challenges.
Reviews
"Very down to earth and practical. I feel like I have some confidence now to reach out and try to offer support to people around me who may be struggling with mental health."

Emily Greenhalgh
"Incredible, insightful and Chris was an absolute wonder to learn from. I struggle with mental health issues and have always found a barrier between aiding mine, and helping others. Chris' course has helped me manifest my own feelings through honesty, self-care and gave me an arsenal of skills to help others where appropriate."

Connor N. K. Byrne
"This class was very informative. This has given me the knowledge needed to be an active listener and provide resources to others. I loved that career options were explored, and the fact other countries were considered!"

Ashley Hostrander
"I really liked that the information was broken down in short sections to make it easier to understand. Chris is not only very knowledgeable on this topic but knows how to explain it in words that anyone would be able to understand and apply. He made the complexity of DBT be clear to me know."

Marina Del Valle
Meet your instructor
Chris Worfolk
Chris is a psychologist and teacher. He holds an MSc in Psychology (Conversion) from Leeds Beckett University and is a Graduate Member of the British Psychological Society.
Chris is the author of multiple books including Do More, Worry Less. He ie the founder the of mental health charity Anxiety Leeds and is co-owner of the Leeds Anxiety Clinic.
What you will achieve
Completing the course will earn you a Mental Health Ambassador certificate awarded by Holbeck College and accredited by the International Association of Therapists. You will receive a digital certificate.
Employers and other educational institutions will be able to validate your qualification using our online validation tool.
Here is an example certificate from our Level 1 Counselling Concepts course.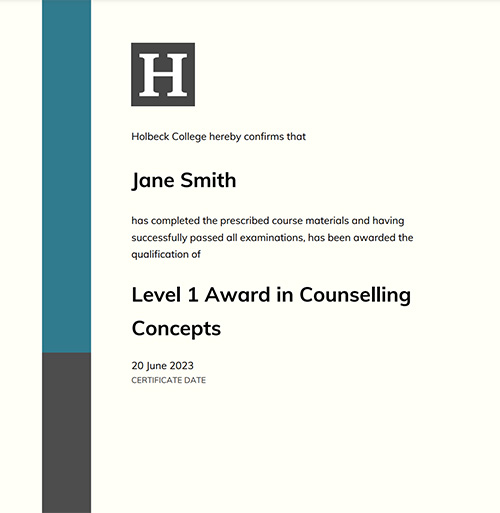 Registration
This course is available via our on-demand platform. You can learn at your own pace but you will have access to your tutor if you have any questions or need additional support. Have some questions before joining the course? Reach out via the contact us page.
Why study with us?
100% online

Access your training from anywhere.

Self-paced

Work at your own pace using our virtual learning environment.

Tutor support

Got a question? No problem, just contact your tutor.

Accredited

Evidence-based courses approved by CPD bodies.

Certificate

Download your certificate once you have completed the course.

No risk

Buy with confidence with our 30-day money-back guarantee.