Meditation Teacher Training
Start your journey to becoming a meditation teacher. This introductory course will teach you everything you need to get started.
Study time
8 hours
Level
Level 2
Start date
26 September 2023
Preview
Do you want to deepen your understanding of meditation and learn to teach it to others? This course will give you everything you need to get started as a meditation teacher.
We'll cover:
Meditation in a range of cultural contexts including Hinduism, Buddhism, Taoism and Christianity
Scientific definitions of meditation and meditation theory
How meditation can be applied for physical and mental health benefits
A wide range of meditation techniques
Teaching skills and keeping your students safe
We'll explore different meditation techniques through practical exercises so you can get hands-on experience with different types of meditation. For each one, you'll get an introduction, practice and list of teaching points. We'll cover:
Loving-kindness meditation (Maitrī, mettā)
Focused meditation (breath, object-focused)
Mantra meditation
Gazing meditation (Trataka)
Open monitoring meditation (mindfulness)
About Level 2
Level 2 is an introductory level qualification suitable for all. They typically do not require prior experience and will take 6-12 weeks to complete based on studying one module per week. See the course description for information specific to this course.
Reviews
"Brilliant course. Really accessible and well taught. It was interesting and Chris's delivery was really engaging. I would definitely recommend this course, even just to learn more about meditation for personal practice. I've already started using some of the techniques myself!"

Rachel McDove
"Extremely mind-opening course! I initially thought meditation was one thing and I am so happy to have learnt that there are so many different types of meditations! I loved the scientific approach to the course and I loved the fact that Chris Worfolk has a psychology background! I can already see this course taking me forward in my practice and my future life vision!"

Aurore Gebert
"Well prepared and informative course. I am happy with the contents and I already have started to use them during my meditation sessions. Thank you Chris and I will be joining in your other courses as well."

Seçkin Akıncı
Meet your instructor
Chris Worfolk
Chris is a psychologist and teacher. He holds an MSc in Psychology (Conversion) from Leeds Beckett University and is a Graduate Member of the British Psychological Society. In addition, Chris is a Yoga Alliance-certified Registered Yoga Teacher.
Chris's dissertation was the first paper to examine the effectiveness of mindfulness mHealth apps in clinical populations. He is the author of multiple books including Do More, Worry Less, and co-founder of the Leeds Anxiety Clinic.
What you will achieve
Completing the course will earn you a Level 2 Award in Meditation Teaching awarded by Holbeck College and accredited by the International Association of Therapists. You will receive a digital certificate.
Employers and other educational institutions will be able to validate your qualification using our online validation tool.
Here is an example certificate from our Level 1 Counselling Concepts course.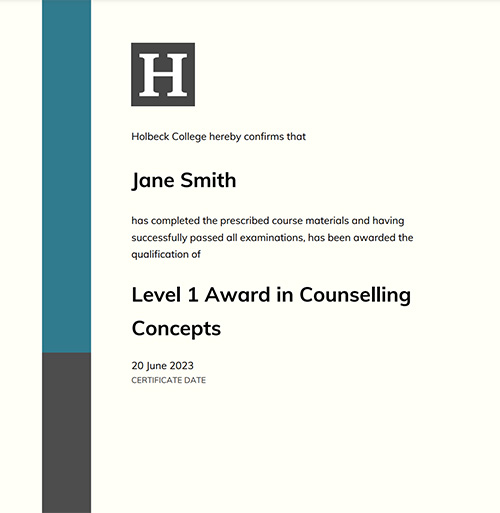 Registration
This course is available via our on-demand platform. You can learn at your own pace but you will access to your tutor if you have any questions or need additional support. Have some questions before joining the course? Reach out via the contact us page.
Why study with us?
100% online

Access your training from anywhere.

Self-paced

Work at your own pace using our virtual learning environment.

Tutor support

Got a question? No problem, just contact your tutor.

Accredited

Evidence-based courses approved by CPD bodies.

Certificate

Download your certificate once you have completed the course.

No risk

Buy with confidence with our 30-day money-back guarantee.