Life Coaching
Start your journey to becoming a professional life coach; master coaching, psychology and adult learning theories.
Study time
7 hours
Level
Level 2
Start date
26 September 2023
Preview
Do you want to learn life coaching? Maybe you want to become a professional life coach. Or maybe you want to add life coaching to your existing skillset or use life coaching to self-coach for better results in your personal life.
This course will provide you will all of the skills you need to work as a life coach. We will explore what coaching is, the difference between coaching, mentoring, consulting and therapy, and how coaching works. We will learn what life coaching looks like and the step-by-step process of working with clients to deliver results.
You will learn:
How people change and how the coach facilities the process
Effective goal-setting that achieves results
Helping people determine purpose, values and needs in their lives
Building rapport and trust through the coaching relationship
Using evidence-based frameworks
Troubleshooting worry, rumination, procrastination and risk aversion
Building perseverance, resilience, assertiveness and self-esteem
Professional issues such as supervision, ethics and mental health
We will draw from a range of evidence-based theory including:
Psychodynamic
Cognitive behavioural coaching (CBC)
Solution-focused
Person-centred
Gestalt
Existential
Ontological
Narrative
Transactional analysis (TA)
Positive psychology coaching (PPC)
We will learn through video lessons, reading, downloads and quizzes so whatever your learning style there will be something for you.
About Level 2
Level 2 is an introductory level qualification suitable for all. They typically do not require prior experience and will take 6-12 weeks to complete based on studying one module per week. See the course description for information specific to this course.
Reviews
"Chris is a great tutor with a background as a psychologist and is a warm, clear communicator. He is especially good at summarising and applying all the theoretical bases for coaching. The links with counselling were also very useful."

Rachel New
"This course was VERY informative. I am happy to have the knowledge, materials and processes to use for my personal practice in the future."

Angelecia R Troope
"Chris can put a knowledge in a proper frame like no one can! He talks about many things I've studied on my University (Andragogy) but in the light of Life coaching and that's exactly what I needed; and he frames it for a practical application - clear and straight on the point! Perfect as it gets! I highly recommend this course!"

Joanna Saric
Meet your instructor
Chris Worfolk
Chris is a psychologist and coach. He holds an MSc in Psychology (Conversion) from Leeds Beckett University and is a Graduate Member of the British Psychological Society. He holds coaching qualifications with British Triathlon, IRONMAN and British Athletics.
What you will achieve
Completing the course will earn you a Level 2 Award in Life Coaching awarded by Holbeck College and accredited by the International Association of Therapists. You will receive a digital certificate.
Employers and other educational institutions will be able to validate your qualification using our online validation tool.
Here is an example certificate from our Level 1 Counselling Concepts course.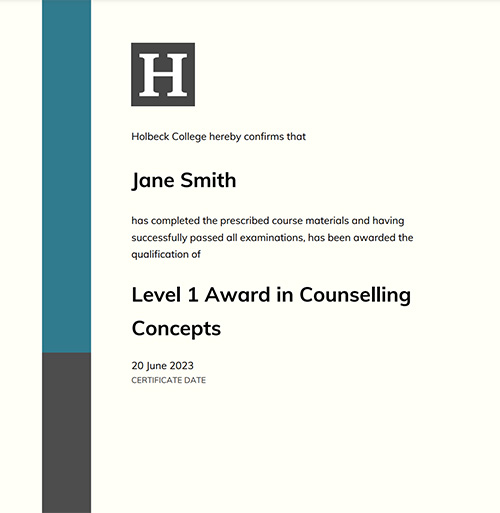 Registration
This course is available via our on-demand platform. You can learn at your own pace but you will access to your tutor if you have any questions or need additional support. Have some questions before joining the course? Reach out via the contact us page.
Why study with us?
100% online

Access your training from anywhere.

Self-paced

Work at your own pace using our virtual learning environment.

Tutor support

Got a question? No problem, just contact your tutor.

Accredited

Evidence-based courses approved by CPD bodies.

Certificate

Download your certificate once you have completed the course.

No risk

Buy with confidence with our 30-day money-back guarantee.