Gestalt Therapy
Learn how people increase their awareness of themselves and the world around them to solve to emotional problems.
Study time
6 hours
Level
Level 2
Start date
26 September 2023
Preview
Gestalt Therapy is a form of counselling focused on a person's here-and-now experience. By helping people engage with their experience, their feelings, and the people around them, Gestalt Therapy empowers clients to find solutions and solve emotional problems.
This course is suitable for professionals looking to learn about Gestalt psychotherapy skills, psychology students looking to learn the Gestalt counselling model, or anyone looking to apply Gestalt techniques to improve their wellbeing.
What we will cover on the course:
What Gestalt Therapy is and how it works
How to understand a client's problems in the context of their situation
Why we withdraw from our feelings and other people, and what to do about it
Gestalt techniques including awareness, experiments, unfinished business and chairwork
Building a strong therapeutic relationship with clients
We will start with a complete introduction to Gestalt theory, including all of the core principles: contact, creative adjustment, awareness, paradoxical theory of change and unfinished business. We'll cover field theory (understanding a client's situation), how we become disconnected from our experience (interruptions to contact) before moving on to breaking down each technique used in Gestalt Therapy, building a relationship and step-by-step what therapy looks like.
We'll then apply Gestalt Therapy to a range of problems including anxiety, depression, trauma, relationship problems, substance use and more so you can see examples of how Gestalt Therapy is used.
The course comes with a comprehensive handbook as well as practical exercises to allow you to try out Gestalt techniques for yourself.
About Level 2
Level 2 is an introductory level qualification suitable for all. They typically do not require prior experience and will take 6-12 weeks to complete based on studying one module per week. See the course description for information specific to this course.
Reviews
"Am so thrilled with the content, explanations, resources and easy-to-digest lectures. Thanks Chris! Loving every minute of Gestalt Therapy."

Lisa Taylor
"Love it's broken up into smaller sections, as i can finish watching a part and then take notes or stop and think. Great value, loved it."

Jeff Bentley
"The courses are easy to follow and full of examples and scenarios which is very valuable. The technical terms are also defined and reformulated systematically which facilitates their understanding, all the more so when they are associated with practical cases."

Laurène Kosno
Meet your instructor
Chris Worfolk
Chris is a psychologist and teacher. He holds an MSc in Psychology (Conversion) from Leeds Beckett University and is a Graduate Member of the British Psychological Society.
Chris is the author of multiple books including Do More, Worry Less. He ie the founder the of mental health charity Anxiety Leeds and is co-owner of the Leeds Anxiety Clinic.
What you will achieve
Completing the course will earn you a Level 2 Award in Gestalt Therapy awarded by Holbeck College and accredited by the International Association of Therapists. You will receive a digital certificate.
Employers and other educational institutions will be able to validate your qualification using our online validation tool.
Here is an example certificate from our Level 1 Counselling Concepts course.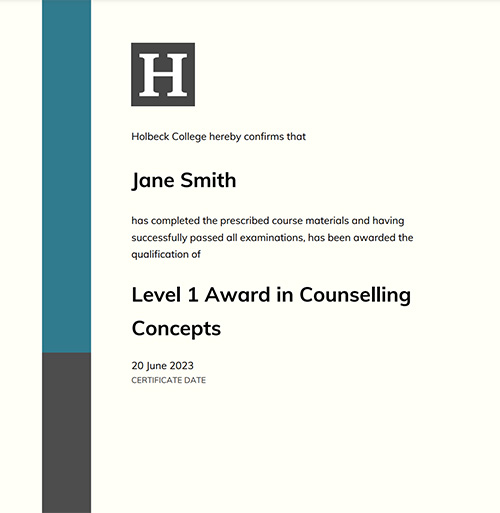 Registration
This course is available via our on-demand platform. You can learn at your own pace but you will access to your tutor if you have any questions or need additional support. Have some questions before joining the course? Reach out via the contact us page.
Why study with us?
100% online

Access your training from anywhere.

Self-paced

Work at your own pace using our virtual learning environment.

Tutor support

Got a question? No problem, just contact your tutor.

Accredited

Evidence-based courses approved by CPD bodies.

Certificate

Download your certificate once you have completed the course.

No risk

Buy with confidence with our 30-day money-back guarantee.