Dialectical Behaviour Therapy (DBT)
Learn how DBT can help people manage their emotions and improve their mental health.
Study time
6 hours
Level
Level 2
Start date
26 September 2023
Preview
Dialectical Behaviour Therapy (DBT) is a type of cognitive behavioural therapy (CBT) that uses mindfulness-based techniques to help people manage difficult emotions.
It was originally developed to treat borderline personality disorder and is now used for a range of problems including suicidal behaviour, self-harm, eating disorders, substance use and depression. DBT helps individuals deliver skills in emotion regulation, interpersonal effectiveness and distress tolerance so they can replace dysfunctional behaviour with healthier alternatives.
This course will teach you the fundamentals of what Dialectical Behaviour Therapy is and how it works. It is aimed at psychotherapists and mental health professionals but will explain all DBT concepts from core principles so is suitable for anyone looking to learn DBT for the first time. We will cover the theory, practice and techniques of DBT including:
What DBT is and the underlying theoretical model
Why CBT is ineffective for some individuals and how DBT solves this
The four components of DBT: individual psychotherapy, skills training, telephone coaching and consultation teams
Exercises and worksheets for the four areas of skills training: core mindfulness skills, interpersonal effectiveness, emotion regulation and distress tolerance
How DBT is delivered step-by-step
The course includes video lectures, downloads, quizzes, practical exercises and a comprehensive course handbook. You will gain hands-on experience trying DBT exercises for yourself.
Things to be aware of:
Prior experience in cognitive behavioural therapy, mindfulness and counselling skills is helpful but not required
DBT is typically delivered in team environments
Due to the nature of the material, we will briefly touch on suicide, self-harm and abuse
Join now to begin learning dialectical behaviour therapy.
About Level 2
Level 2 is an introductory level qualification suitable for all. They typically do not require prior experience and will take 6-12 weeks to complete based on studying one module per week. See the course description for information specific to this course.
Reviews
"The level of information/education offered in this course, is current, logical, practical, and has elements of tacit learning, and all of it is applicable in a face-to-face therapy session with a client. All the elements of current DBT methodology/theory are covered in this course and for any individual, whether practitioner or not, this course is invaluable."

Luis del Valle
"I really liked that the information was broken down in short sections to make it easier to understand. Chris is not only very knowledgeable on this topic but knows how to explain it in words that anyone would be able to understand and apply. He made the complexity of DBT be clear to me know."

Marina Del Valle
"Such a brilliant course learnt so much brilliant teacher."

Tracy Wood
Meet your instructor
Chris Worfolk
Chris is a psychologist and teacher. He holds an MSc in Psychology (Conversion) from Leeds Beckett University and is a Graduate Member of the British Psychological Society.
Chris is the author of multiple books including Do More, Worry Less. He ie the founder the of mental health charity Anxiety Leeds and is co-owner of the Leeds Anxiety Clinic.
What you will achieve
Completing the course will earn you a Level 2 Award in Dialectical Behaviour Therapy awarded by Holbeck College and accredited by the International Association of Therapists. You will receive a digital certificate.
Employers and other educational institutions will be able to validate your qualification using our online validation tool.
Here is an example certificate from our Level 1 Counselling Concepts course.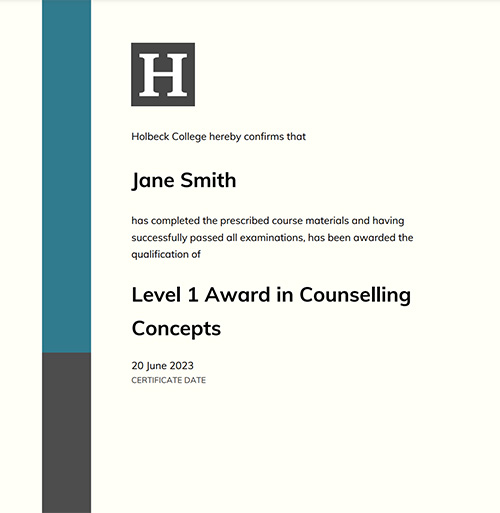 Registration
This course is available via our on-demand platform. You can learn at your own pace but you will access to your tutor if you have any questions or need additional support. Have some questions before joining the course? Reach out via the contact us page.
Why study with us?
100% online

Access your training from anywhere.

Self-paced

Work at your own pace using our virtual learning environment.

Tutor support

Got a question? No problem, just contact your tutor.

Accredited

Evidence-based courses approved by CPD bodies.

Certificate

Download your certificate once you have completed the course.

No risk

Buy with confidence with our 30-day money-back guarantee.