Cognitive Psychology
Learn the fundamentals of cognitive psychology, neuroscience, and how the mind works.
Study time
8 hours
Level
Level 2
Start date
7 December 2023
Preview
Cognitive psychology is the study of mental processes: understanding how the mind works. In this course, we will introduce all of the key concepts in the field of cognitive psychology including perception, attention, memory, decision making and much more.
We'll start by exploring how we perceive the world and how our senses translate our experiences into a model of the world. We will then explore how we use this to guide our actions and pay attention. We'll explore how memory works and how this relates to learning, before exploring higher cognitive processes such as language, problem-solving and decision making.
We will see cognitive psychology in action looking at how mental imagery is used in sport and how condition and emotion interact with mental health. Finally, we'll explore research methods: how do we look inside the brain and understand what is going on, drawing on the latest insights from neuroscience and neuropsychology.
Topics covered in this course:
What is cognitive psychology
Visual perception
Pattern recognition
Mental imagery
Perception and action
Change blindness
Attention
Memory
Learning
Language
Problem solving
Decision-making
Cognition and emotion
Consciousness
Research methods
Throughout the course, we will use exercises and examples to explore how our own minds work. For example, what happens to visual stimuli in our blind spot? How can we read words partially obscured? How do we know how far away something is? How well can we multitask? What causes speech errors? And what mental shortcuts may throw off our decision-making?
We'll do all of this through videos, readings, exercises and quizzes, so whatever your learning style there will be something in this course for you. By the end of the course, you will be familiar with all the key topics in the field of cognitive psychology. Please note that this is not a course on cognitive behavioural therapy (CBT), nor it is a personal development course.
About Level 2
Level 2 is an introductory level qualification suitable for all. They typically do not require prior experience and will take 6-12 weeks to complete based on studying one module per week. See the course description for information specific to this course.
Reviews
"This course has a very detailed explanation of complete cognitive psychology."

Sandeep Kumar Jha
"I absolutely loved the course. At first I thought it would be like the other psychology courses I had taken online but it really blew me away with the topics. An added bonus was the really nice instructor, I loved the smile he gave at the end of each lesson"

Gbonjubola Ogungbangbe
"Great course! Great examples. This is an excellent overview of cognitive psychology."

Alejandro Vazquez
Meet your instructor
Chris Worfolk
Chris is a psychologist and teacher. He holds an MSc in Psychology (Conversion) from Leeds Beckett University and is a Graduate Member of the British Psychological Society.
Chris is the author of multiple books including Do More, Worry Less. He ie the founder the of mental health charity Anxiety Leeds and is co-owner of the Leeds Anxiety Clinic.
What you will achieve
Completing the course will earn you a Level 2 Award in Cognitive Psychology awarded by Holbeck College and accredited by the International Association of Therapists. You will receive a digital certificate.
Employers and other educational institutions will be able to validate your qualification using our online validation tool.
Here is an example certificate from our Level 1 Counselling Concepts course.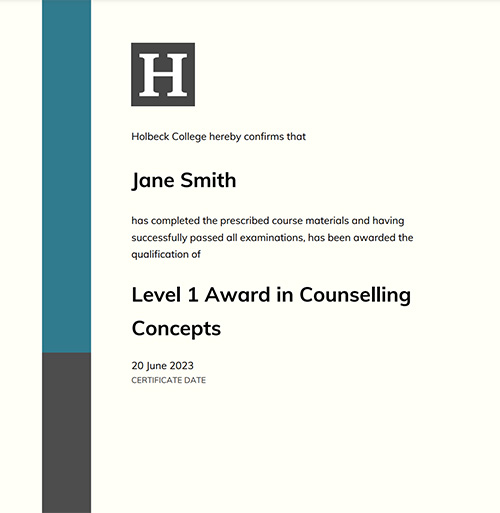 Registration
This course is available via our on-demand platform. You can learn at your own pace but you will have access to your tutor if you have any questions or need additional support. Have some questions before joining the course? Reach out via the contact us page.
Why study with us?
100% online

Access your training from anywhere.

Self-paced

Work at your own pace using our virtual learning environment.

Tutor support

Got a question? No problem, just contact your tutor.

Accredited

Evidence-based courses approved by CPD bodies.

Certificate

Download your certificate once you have completed the course.

No risk

Buy with confidence with our 30-day money-back guarantee.