Cognitive Behavioural Therapy (CBT)
Study the world's leading evidence-based psychotherapy.
Study time
10 hours
Level
Level 2
Start date
26 September 2023
Preview
Cognitive Behavioural Therapy (CBT) is the gold standard of psychotherapy because of its proven effectiveness in improving mental health and wellbeing. This course will give you everything you need to understand what CBT is and how it works.
CBT uses the cognitive model to help us better understand ourselves and make sense of our difficulties and uses a series of cognitive and behavioural strategies to make positive changes in our lives so that we feel better.
We will cover:
What CBT is and how it works
Step-by-step how practitioners use CBT
How the brain works and how we can conceptualise problems and understand ourselves
How thoughts, feelings and behaviours are connected
Understanding intrusive thoughts, worry and rumination
Building a strong therapeutic relationship with clients
We will then look in more detail at how CBT applies to depression, anxiety, social phobia, panic disorder, obsessive-compulsive disorder (OCD), post-traumatic stress disorder (PTSD), insomnia and addiction. We'll also look beyond CBT as newly emerging CBT-based psychotherapies.
The course comes with a comprehensive handbook as well as downloads and worksheets so that you have all the resources you need to start learning CBT.
About Level 2
Level 2 is an introductory level qualification suitable for all. They typically do not require prior experience and will take 6-12 weeks to complete based on studying one module per week. See the course description for information specific to this course.
Reviews
"It is truly one of the best structured and most beautifully taught courses here! It's clear and straight to the point, that's why you will really remember what you've been learning during the course! I love it and I highly recommend it!"

Joanna Saric
"Very good overview of CBT. Also a good repetition and summary if you have done similar courses before. Thanks Chris for that variety of subjects."

Norbert Lender
"The content is amazing and easy to grasp. The lectures are not too long with only essential information allowing you to keep focused."

Bronwen Thomas
Meet your instructor
Chris Worfolk
Chris is a psychologist and teacher. He holds an MSc in Psychology (Conversion) from Leeds Beckett University and is a Graduate Member of the British Psychological Society.
Chris is the author of multiple books including Do More, Worry Less. He ie the founder the of mental health charity Anxiety Leeds and is co-owner of the Leeds Anxiety Clinic.
What you will achieve
Completing the course will earn you a Level 2 Award in Cognitive Behavioural Therapy awarded by Holbeck College and accredited by the International Association of Therapists. You will receive a digital certificate.
Employers and other educational institutions will be able to validate your qualification using our online validation tool.
Here is an example certificate from our Level 1 Counselling Concepts course.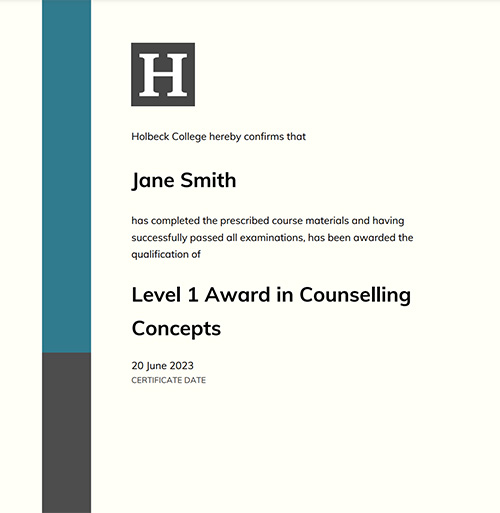 Registration
This course is available via our on-demand platform. You can learn at your own pace but you will access to your tutor if you have any questions or need additional support. Have some questions before joining the course? Reach out via the contact us page.
Why study with us?
100% online

Access your training from anywhere.

Self-paced

Work at your own pace using our virtual learning environment.

Tutor support

Got a question? No problem, just contact your tutor.

Accredited

Evidence-based courses approved by CPD bodies.

Certificate

Download your certificate once you have completed the course.

No risk

Buy with confidence with our 30-day money-back guarantee.
Why study CBT?
Studying Cognitive Behavioural Therapy (CBT) can be incredibly beneficial for professionals in a wide range of fields. CBT is an evidence-based therapeutic approach that has been shown to be effective in treating a variety of mental health conditions, including anxiety, depression, and post-traumatic stress disorder.
Learning and teaching
Our course is delivered entirely online through a variety of engaging and interactive materials, including instructional videos, informative readings, thought-provoking worksheets, and practical exercises. This means that you can work through the course at your own pace, and access the materials whenever and wherever it suits you.
Assessment
As part of our Cognitive Behavioural Therapy course, we offer a comprehensive assessment program to help you track your progress and evaluate your understanding of the material. Our assessments are delivered through a series of multiple-choice exams. These exams are carefully crafted to test your knowledge of key concepts and practical applications of CBT, ensuring that you have a thorough understanding of the subject matter before moving on to the next module.
Career opportunities
Our Level 2 is the perfect place to start when learning Cognitive Behavioural Therapy. It will give you all of the fundamental skills you need to study CBT further and is a core module in our CBT Diploma track.