CBT for Social Anxiety
Learn to manage social phobia and panic using cognitive behavioural therapy
Study time
4 hours
Level
Level 2
Start date
7 December 2023
Preview
Cognitive behavioural therapy (CBT) is a proven, evidence-based treatment for social anxiety disorder (SAD), panic and social phobia.
This course is designed as a self-help tool for anyone struggling with social anxiety. It is also suitable for counsellors, psychotherapists any other care professionals who want to learn more about how social anxiety and how CBT can help. We'll explore what social anxiety is, how Cognitive Behavioural Therapy conceptualises social anxiety and what strategies can an individual use.
In the course, we will cover:
What is social anxiety?
What is cognitive behavioural therapy (CBT) and how does it work?
Anxiety theory and understanding social anxiety
Using both cognitive and behavioural strategies
Integrating other therapeutic approaches
Strategies you will learn in this course:
Identifying Negative Automatic Thoughts and biased thinking
Challenging and rewriting negative thoughts
Using graded exposure and behavioural experiments
What to do if you feel stuck
And lots more!
In addition to the video lectures and examples, you will receive a complete set of workbooks to use for each step of the process.
About Level 2
Level 2 is an introductory level qualification suitable for all. They typically do not require prior experience and will take 6-12 weeks to complete based on studying one module per week. See the course description for information specific to this course.
Reviews
"Chris did a great job summing up CBT. I will be happy to suggest this to my clients. It's a great resource for reviewing the main components."

C R
"This was an excellent course. Chris gets to the point and provides all of the salient information you need to know without padding with unnecessary information or narration. He provides a synopsis of CBT, its applicability to specific situations, and how it can be put into practice while counselling others. Chris used realistic and relevant examples throughout and his visual aids are simple and clear. I highly recommend this course if you are a beginner with CBT or if you have some familiarity with it."

Karen J
"This is a wonderful course and detail yet precise step by step information. the visuals and point well presented"

Anita E
Meet your instructor
Chris Worfolk
Chris is a psychologist and teacher. He holds an MSc in Psychology (Conversion) from Leeds Beckett University and is a Graduate Member of the British Psychological Society.
Chris is the author of multiple books including Do More, Worry Less. He ie the founder the of mental health charity Anxiety Leeds and is co-owner of the Leeds Anxiety Clinic.
What you will achieve
Completing the course will earn you a Level 2 Award in CBT for Social Anxiety awarded by Holbeck College and accredited by the International Association of Therapists. You will receive a digital certificate.
Employers and other educational institutions will be able to validate your qualification using our online validation tool.
Here is an example certificate from our Level 1 Counselling Concepts course.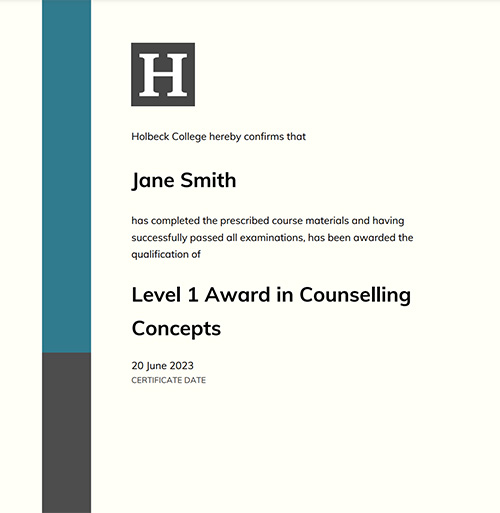 Registration
This course is available via our on-demand platform. You can learn at your own pace but you will have access to your tutor if you have any questions or need additional support. Have some questions before joining the course? Reach out via the contact us page.
Why study with us?
100% online

Access your training from anywhere.

Self-paced

Work at your own pace using our virtual learning environment.

Tutor support

Got a question? No problem, just contact your tutor.

Accredited

Evidence-based courses approved by CPD bodies.

Certificate

Download your certificate once you have completed the course.

No risk

Buy with confidence with our 30-day money-back guarantee.