Acceptance and Commitment Therapy (ACT)
Learn how CBT and mindfulness come together to form a third-wave acceptance-based approach.
Study time
6 hours
Level
Level 2
Start date
26 September 2023
Preview
Acceptance and Commitment Therapy (ACT) is a type of cognitive behavioural therapy that uses mindfulness-based techniques to help people change their lives.
Where other psychotherapies focus on reducing symptoms, ACT focuses on helping individuals make changes and live with purpose. ACT helps people build psychological flexibility so that they can respond to their difficult experiences in new ways.
Acceptance and Commitment Therapy has a strong evidence base and is recommended by the World Health Organisation, NHS and American Psychological Association.
This course will teach you the fundamentals of what ACT is and how to use it. It is suitable for psychotherapists and mental health professionals looking to learn about ACT, as well as individuals looking to apply ACT to their own wellbeing. We'll cover the theory, practice and techniques of ACT including:
What ACT is and the underlying theoretical model
Why existing interventions such as traditional CBT often fail
The six processes of psychological flexibility
How ACT is delivered step-by-step
Building a strong therapeutic relationship
The course includes video lectures, downloads, quizzes, practical exercises and a comprehensive course handbook. You will gain hands-on experience trying ACT techniques and finish the course with a variety of skills for building psychological flexibility.
No prior knowledge of acceptance and commitment therapy is required to enrol on this course. You do not need a background in cognitive behavioural therapy or mindfulness, although having one may aid understanding. All concepts will be explained from the ground up.
About Level 2
Level 2 is an introductory level qualification suitable for all. They typically do not require prior experience and will take 6-12 weeks to complete based on studying one module per week. See the course description for information specific to this course.
Reviews
"This particular course is out of my stream of study, I have opted for it because I wanted to learn something new because I have been interested in psychology. This course has been really helpful and we realise that we have been practising some of these but did not know they have names. I suggest you all to take up the course as the concepts are really interesting and helpful."

Sai Vaishnavi C
"Really enjoying the course. I like how the course is set up and structured and the features of the online learning."

Melanie Hayes
"I loved this course. Instructor is awesome, videos are short and easy to follow. Resources are great too!"

Ana Grasilovic
Meet your instructor
Chris Worfolk
Chris is a psychologist and teacher. He holds an MSc in Psychology (Conversion) from Leeds Beckett University and is a Graduate Member of the British Psychological Society.
Chris is the author of multiple books including Do More, Worry Less. He ie the founder the of mental health charity Anxiety Leeds and is co-owner of the Leeds Anxiety Clinic.
What you will achieve
Completing the course will earn you a Level 2 Award in Acceptance and Commitment Therapy awarded by Holbeck College and accredited by the International Association of Therapists. You will receive a digital certificate.
Employers and other educational institutions will be able to validate your qualification using our online validation tool.
Here is an example certificate from our Level 1 Counselling Concepts course.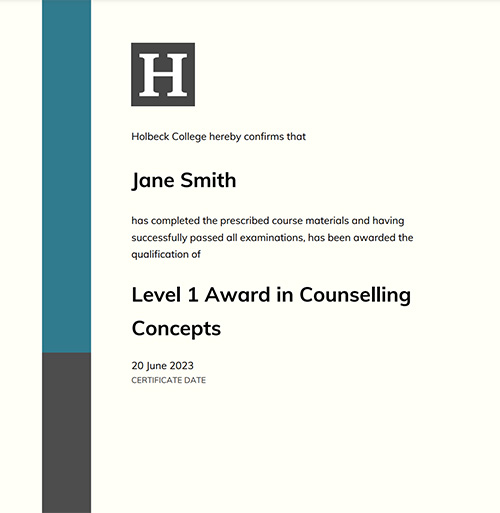 Registration
This course is available via our on-demand platform. You can learn at your own pace but you will access to your tutor if you have any questions or need additional support. Have some questions before joining the course? Reach out via the contact us page.
Why study with us?
100% online

Access your training from anywhere.

Self-paced

Work at your own pace using our virtual learning environment.

Tutor support

Got a question? No problem, just contact your tutor.

Accredited

Evidence-based courses approved by CPD bodies.

Certificate

Download your certificate once you have completed the course.

No risk

Buy with confidence with our 30-day money-back guarantee.